TradeVine entertainment news highlights for week ending Sept 7th 2012 with Brett Walkow
THE PURPOSE OF THE TRADEVINE IS TO ENCOURAGE THE ENTERTAINMENT INDUSTRY TO READ THEIR TRADES: VARIETY, HOLLYWOOD REPORTER, BACK STAGE, ETC. ENJOY LEARNING ABOUT YOUR INDUSTRY.
EACH FRIDAY, THE TRADEVINE SEEKS OUT A FEW OF THE INFORMATIVE TRADE ARTICLES YOU MAY HAVE MISSED. VISIT THE TRADE, ITSELF, FOR THE ENTIRE ARTICLE.
Hi everybody, I'm Brett Walkow of the Actors Reporter and welcome to the TradeVine. Our goal at the TradeVine is to help you stay informed and to keep up with some of the entertainment news you may have missed in the Trades, such as The Hollywood Reporter, Daily Variety, and Backstage.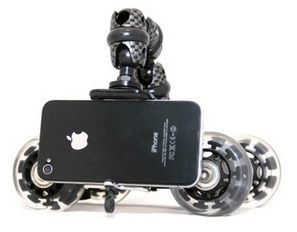 Back Stage, September 5th –A Portable Dolly for Your iPhone Camera, by Matthew Murray. Video without motion isn't especially scintillating, after all, that's why you shoot video rather than still photos. But the majority of videos you find on the Web are of either the locked-in-place or shaky-handed varieties. Nothing you'd want to use to present yourself either personally or professionally. That's a big part of the reason there's so much to like about the new iStabilizer Dolly. The four-wheeled Dolly gives you even more flexibility if you routinely shoot video with devices other than a dedicated, full-size camcorder. Because it's so small and light, it's a snap to take it with you. Load it up with your Apple, Android, or BlackBerry smartphone, iPod touch, or other digital camera, and do a quick tracking shot anytime, anywhere inspiration strikes.
Daily Variety, September 5th – European clash looms over co-pro rules, by Nick Vivarelli. European Union politicians are poised to clash over the proposed new EU film funding legislation that could cut funding for co-productions with Hollywood and other non-EU member states. Doris Pack, chairwoman of the European Parliament's Culture Committee, confirmed reports about major modifications being drafted that would reduce aid to non-EU productions, and would force producers to spend 100% of the aid they get within the country offering the incentives. She believes the EU must continue on the path that led to the creation of Media Mundus, the EU program, launched in 2011, that aims to boost international co-operation, by supporting co-productions and other initiatives aimed at building links between the European film industry and other territories.
Also in the Daily Variety, September 5th – FCC to track mobile broadband performance, by Jill Goldsmith. The Federal Communications Commission said it's launching the first program to measure nationwide mobile broadband performance, working with wireless providers including AT&T, Sprint and T-Mobile, trade groups and researchers. Measuring Mobile America expands on a push to study home broadband performance in the U.S. and will make it easier for consumers to get detailed information about their mobile broadband. The new venture will empower consumers and encourage improvements in mobile networks and programs, benefiting millions of Americans.
Well, that's it for the TradeVine this week. I'm Brett Walkow. Thank you very much for watching. And remember, You heard it through the Tradevine!