TradeVine entertainment news highlights for week ending October 11th 2013 with Katelyn Haynes
THE PURPOSE OF THE TRADEVINE IS TO ENCOURAGE THE ENTERTAINMENT INDUSTRY TO READ THEIR TRADES: VARIETY, HOLLYWOOD REPORTER, BACK STAGE, ETC. ENJOY LEARNING ABOUT YOUR INDUSTRY.
EACH FRIDAY, THE TRADEVINE SEEKS OUT A FEW OF THE INFORMATIVE TRADE ARTICLES YOU MAY HAVE MISSED. VISIT THE TRADE, ITSELF, FOR THE ENTIRE ARTICLE.
Hi everybody, I'm Katelyn Haynes of the Actors Reporter and welcome to the TradeVine. Our goal at the TradeVine is to help you stay informed and to keep up with some of the entertainment news you may have missed in the Trades, such as The Hollywood Reporter, Variety, and Backstage.
Back Stage, October 8th – 5 Things To Do When You Book Your TV Series, by Steve Braun and Risa Bramon Garcia.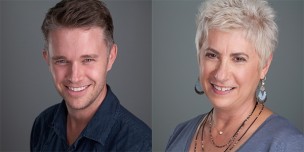 Being a series regular on a show brings with it fame, fortune, and the chance to work as an actor five days a week. It's just about as good as it gets in our business. Trying to be a series regular is like campaigning for president. You know you want the job, but you can't really have a sense of what it's like until you're there. Here are three of the five things to do when you book that coveted series regular role. 1. Pull back the curtain. Figure out as soon as you can that the fantasy you were chasing is not reality. Yes, the money is great. Yes, you have your own trailer. But at a certain point, it becomes work. 2. Live like you're poor. In the blink of an eye, you moved up to much higher tax bracket. There may be an impulse—and sometimes an expectation—that you're going to live large. This is a mistake that so many actors make. 3. Don't believe the hype. While the crew members are often wildly caring of actors, they'd offer the same care to the actor you tested against, had they been cast. An inflated sense of yourself and your accomplishments disconnects you from humanity and gets in the way of doing good work.
Hollywood Reporter, October 8th – Inside Hollywood's Surprise Trip to China's Huading Awards, by Patrick Brzeski and Abid Rahman.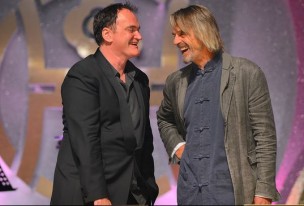 Quentin Tarantino, Nicole Kidman and Nicolas Cage mingled with Chinese talent at the country's Oscars-like event — yet another example of the Asian industry's growing global sway. Hong Kong action star Jackie Chan and Nicole Kidman arrived on the red carpet at Shelden Adelson's Venetian Macao Casino. Kidman was honored at the event with the "best global actress in motion pictures" award. Tarantino, who received the best global director in motion pictures award, said in his acceptance speech that he grew up watching the films of Shaw Brothers Studio and Golden Harvest and has so much love for Chinese cinema.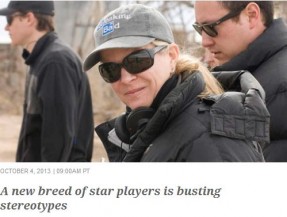 Variety, October 4th – Female TV Directors: Numbers Remain Low, But Clout Is Growing, Cynthia Littleton.
The statistics detailing the number of women working as directors in television remain stubbornly low. There are, however, many impressive examples of femmes calling the shots in TV. Michelle MacLaren has become a trademark of quality, helming episodes of "Breaking Bad", "Game of Thrones" and "The Walking Dead." Same goes for Lesli Linka Glatter, who also herds the zombies on "Walking Dead." Jennifer Getzinger is a regular on "Mad Men," while Gwyneth Horder-Payton rides with the gang on "Sons of Anarchy." If Primetime Emmy nominations are a bellwether, and they should be, femmes are holding their own. Two of this year's five drama nominees were women and three of the five for comedy.
I'm your host Katelyn Haynes. Thank you for watching. Please send any questions or comments to TradeVine@ActorsReporter.com
And, remember, you heard it through the TradeVine.
The TradeVine is a weekly entertainment news highlights show on Actors Reporter, a channel on the Actors Podcast Network, a Pepper Jay Production.