TradeVine entertainment news highlights for week ending November 30th 2012 with Brett Walkow
THE PURPOSE OF THE TRADEVINE IS TO ENCOURAGE THE ENTERTAINMENT INDUSTRY TO READ THEIR TRADES: VARIETY, HOLLYWOOD REPORTER, BACK STAGE, ETC. ENJOY LEARNING ABOUT YOUR INDUSTRY.
EACH FRIDAY, THE TRADEVINE SEEKS OUT A FEW OF THE INFORMATIVE TRADE ARTICLES YOU MAY HAVE MISSED. VISIT THE TRADE, ITSELF, FOR THE ENTIRE ARTICLE.
Hi everybody, I'm Brett Walkow of the Actors Reporter and welcome to the TradeVine. Our goal at the TradeVine is to help you stay informed and to keep up with some of the entertainment news you may have missed in the Trades, such as The Hollywood Reporter, Daily Variety, and Backstage.
Back Stage, November 26th – How To Keep Your Balance in the Audition Room, by Marci Liroff. Do you ever flub a line or get lost when you're auditioning? It's a horrifying feeling when that happens. In this article, casting director Marci Liroff tells you how to win over the room when this happens. When you're in an audition and mess up on your lines, it's how you recover that can either make or break you. If you dissolve into a puddle on the floor with "I'm sorry"'s or "Can I please, please start over again?" you've essentially just lost your audience. But if you can gracefully dip down and check your sides, find where you are, look up, and continue, you've just won the room. If you feel you are way off-track from what you'd prepared, say, "I'm going to start again," compose yourself, and immediately start again. Remember, this is your audition. Take charge.
Hollywood Reporter, November 25th – CEA Researcher: Growth In Tablet Market Could Make TVs the Second Screen, by Carolyn Giardina. Is the tablet ready to move from being the second screen to the primary screen?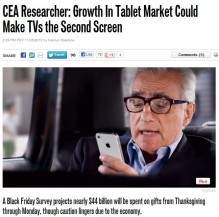 It might be, according to the Consumer Electronics Asssociation's senior researcher, who noted that tablets and smartphones were the top selling electronic devices this holiday weekend. With competition from digital distribution only about one in three bought DVDs or Blu-ray Discs. That could affect how content creators distribute their content and the type of stories that they tell.
Daily Variety, November 28th – Foundation aids in times of crisis, by Dana Feldman. The SAG Foundation might be approaching the 30-year mark, but few people outside the thesps in SAG-AFTRA's vast ranks are aware of the crucial cushion it provides its members. Alec Baldwin, who has served as the Ambassador to the SAG Foundation over the past year, calls it "the best-kept secret in town for the past three decades." The star of NBC's "30 Rock" gave a shout-out to the Foundation in his acceptance speech calling particular attention to BookPALS, which enlists actors to read aloud to kids with the intent of making literacy palatable to all ages. Children's literacy is one third of the Foundation's three-pronged effort to provide both educational and financial support for actors and their families, which includes training initiatives, panels with producers, actors and industry professionals, casting workshops, and financial and emergency assistance in times of need, including a catastrophic health fund for SAG-AFTRA members.
Well, that's it for the TradeVine this week. I'm Brett Walkow. Thank you very much for watching. And remember, You heard it through the Tradevine!