TradeVine entertainment news highlights for week ending November 23rd 2012 with Kristina Nikols
THE PURPOSE OF THE TRADEVINE IS TO ENCOURAGE THE ENTERTAINMENT INDUSTRY TO READ THEIR TRADES: VARIETY, HOLLYWOOD REPORTER, BACK STAGE, ETC. ENJOY LEARNING ABOUT YOUR INDUSTRY.
EACH FRIDAY, THE TRADEVINE SEEKS OUT A FEW OF THE INFORMATIVE TRADE ARTICLES YOU MAY HAVE MISSED. VISIT THE TRADE, ITSELF, FOR THE ENTIRE ARTICLE.
Hi everybody, I'm Kristina Nikols of the Actors Reporter and welcome to the TradeVine. I hope everyone had a great Thanksgiving holiday. We at the TradeVine have a lot to be grateful for and at the top of the list is you, our viewers. Our goal at the TradeVine is to help you stay informed and to keep up with some of the entertainment news you may have missed in the Trades, such as The Hollywood Reporter, Daily Variety, and Backstage.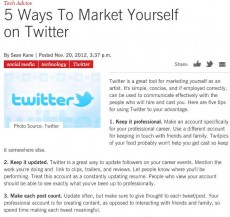 Back Stage, November 20th – In Tech Advice, 5 Ways To Market Yourself on Twitter, by Sean Kane. Twitter is a great tool for marketing yourself as an artist. It's simple, concise, and if employed correctly, can be used to communicate effectively with the people who will hire and cast you. Here are five tips for using Twitter to your advantage. 1. Keep it professional. Make an account specifically for your professional career. Use a different account for keeping in touch with friends and family. 2. Keep it updated. Mention the work you're doing and link to clips, trailers, and reviews. 3. Make each post count. Spend time making each tweet meaningful. 4. Make it entertaining. Crack a few jokes about a current event related to you. Comment on recent films and shows. Or start a dialogue on your craft. 5. Engage. Find casting directors, producers and directors and follow them. Retweet their posts. After following them for a while, directly reply to their tweets. However, this should be done tastefully and sparingly.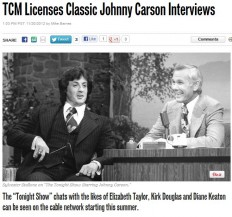 Hollywood Reporter, November 20th – TCM Licenses Classic Johnny Carson Interviews, by Mike Barnes. The King of Late Night is coming to Turner Classic Movies. Next summer, the cable network will unveil "Carson on TCM," a showcase of memorable interviews from Johnny Carson's three decades as host of NBC's The Tonight Show. TCM has licensed 50 interviews from the Carson Entertainment Group archives, including chats with such Hollywood legends as Bette Davis, Kirk Douglas, Truman Capote and Elizabeth Taylor. Many of the interviews have not aired since they premiered.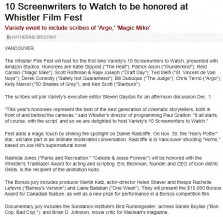 Daily Variety, November 20th – In Film news, 10 Screenwriters to Watch to be honored at Whistler Film Fest, by Katherine Brodsky. The Whistler Film Fest will host for the first time Variety's 10 Screenwriters to Watch, presented with Amazon Studios. This year's honorees represent the best of the next generation of cinematic storytellers, both in front of and behind the cameras. The scribes will join Variety's executive editor Steven Gaydos for an afternoon discussion. The fest adds a magic touch by shining the spotlight on Daniel Radcliffe. The "Harry Potter" star, will take part in an intimate moderated conversation. Radcliffe is in Vancouver shooting "Horns," based on Joe Hill's supernatural novel.
Well, that's it for the TradeVine this week. I'm Kristina Nikols. Thank you very much for watching. And remember, You heard it through the Tradevine!