TradeVine entertainment news highlights for week ending June 21st 2013 with Laci Kay
THE PURPOSE OF THE TRADEVINE IS TO ENCOURAGE THE ENTERTAINMENT INDUSTRY TO READ THEIR TRADES: VARIETY, HOLLYWOOD REPORTER, BACK STAGE, ETC. ENJOY LEARNING ABOUT YOUR INDUSTRY.
EACH FRIDAY, THE TRADEVINE SEEKS OUT A FEW OF THE INFORMATIVE TRADE ARTICLES YOU MAY HAVE MISSED. VISIT THE TRADE, ITSELF, FOR THE ENTIRE ARTICLE.
Hi everybody, I'm Laci Kay of the Actors Reporter and welcome to the TradeVine. Our goal at the TradeVine is to help you stay informed and to keep up with some of the entertainment news you may have missed in the Trades, such as The Hollywood Reporter, Variety, and Backstage.
Back Stage, June 18th – Why You Need To Get Out There and Pursue Your Acting Career Now, by David Patrick Green.
There is a lot of confusion out there on how to best tackle your acting career. There are so many people doing and saying different things. Unfortunately—since everyone is doing these same things—most of them don't work. What do you do? Do you A) Get with the program? Or do you B) Start making excuses? Some of the most popular excuses actors make to put off pursuing their career are: I'm having trouble with my relationship. I need to have work/life balance. I need new headshots. I need more classes. I can't memorize fast enough. I'm not ready yet. Why so many excuses? Most actors are confused about their careers and end up putting it last. They may say that having an acting career is important to them, but they make up excuses and end up putting it off. All acting activities will lead to building your career, if you only get yourself out the door to do them.
Hollywood Reporter, June 18th – British Columbia Official: Stop Juicing Tax Credits, by Etan Vlessing.
British Columbia is crying uncle in its battle to stop Hollywood film and TV shoots from going east to Ontario and Quebec. In their election platform last month, the governing Liberal Party said they would work with the provinces of Ontario and Quebec to establish a rational film-incentive policy across Canada to prevent unaffordable industry support systems. Having been rebuffed by Ontario and Quebec, which have drawn Hollywood productions to their provinces by introducing 25 percent all-spend tax credits to compete with rival U.S. states, the B.C. finance minister this week repeated the call for vigilance. The Canadian tussle over how to woo big-budget Hollywood film and TV shoots mirrors an earlier debate in rival U.S. states that pointed to a net loss in tax revenue from escalating tax incentives.
Variety, June 14th – 'World War Z' a Big Test for Paramount's Wary Strategy, by Peter Bart.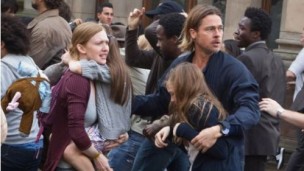 Things are too quiet on the Melrose front as the Paramount studio doesn't make many movies or create much sizzle. It's almost like the 'R' word, risk, has been dropped from the studio's vocabulary. That's why there's so much focus on the opening of "World War Z". This isn't just another summer release. It's Paramount's only other summer movie besides last month's "Star Trek." And since it's only the fifth release of 2013, the success of this $200 million Brad Pitt vehicle is pivotal to the studio. At a time when some analysts are second-guessing Sony for distributing so many films, Paramount's relative austerity has some supporters. However, many in the creative community worry that the Paramount strategy translates into fewer jobs and a more rigid, sequel-obsessed approach to studio planning. We'll have to wait and see how World War Z does at the box office.
I'm your host Laci Kay. Thank you for watching. Please send any questions or comments to TradeVine@ActorsReporter.com And, remember, you heard it through the TradeVine.