TradeVine entertainment news highlights for week ending July 26th 2013 with Laci Kay
THE PURPOSE OF THE TRADEVINE IS TO ENCOURAGE THE ENTERTAINMENT INDUSTRY TO READ THEIR TRADES: VARIETY, HOLLYWOOD REPORTER, BACK STAGE, ETC. ENJOY LEARNING ABOUT YOUR INDUSTRY.
EACH FRIDAY, THE TRADEVINE SEEKS OUT A FEW OF THE INFORMATIVE TRADE ARTICLES YOU MAY HAVE MISSED. VISIT THE TRADE, ITSELF, FOR THE ENTIRE ARTICLE.
Hi everybody, I'm Laci Kay of the Actors Reporter and welcome to the TradeVine. Our goal at the TradeVine is to help you stay informed and to keep up with some of the entertainment news you may have missed in the Trades, such as The Hollywood Reporter, Variety, and Backstage.
Back Stage, July 17th – 4 Practical On-Camera Tips That Make Directors Want To Hire You, by Brian O'Neil.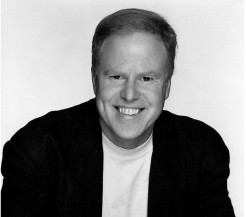 Besides the obvious traits of professionalism here are practical and technical on-camera tips to help make you a real pro on the set. 1. Eye contact. To achieve solid eye contact, focus on your scene partner's downstage eye. 2. Take a stand. When standing normally, our feet form a V-shape, which can lead to swaying. By moving one foot in front of the other, and shifting its angle a bit, will make it almost impossible for you to sway. 3. Take stock of your habits. These include: excessive blinking, flipping hair, crossing-arms, hands in pockets, and, well, the list is endless. Tape yourself and carefully self-scrutinize to eliminate these habits. 4. Don't beat up on yourself! As an actor, it's your goal to choose which imperfections to showcase in your characters. Just don't let your own habits, affectations, and mannerisms get in the way of giving a great performance.
Hollywood Reporter, July 22nd – WGA Rule Change Opens Door for Netflix to Compete for Awards, by Gregg Kilday.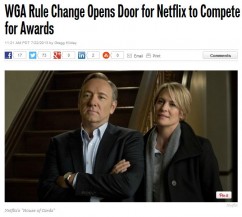 The Writers Guild of America is opening up its rules for awards eligibility so that shows produced for new media, such as Netflix's offerings, can be considered for the 2014 Writers Guild Awards. Under the WGA's previously existing rules, those shows would not have been eligible to compete against similar programs produced for TV. The new guidelines will permit online series to compete with TV series in the script and series categories. Opening up the awards to new media also affects several daytime serials, which had been broadcast on network television but which have moved to new media platforms. The WGA says whether you're watching content on a TV screen, online on a laptop, or with a hand-held device, outstanding writing and great storytelling deserve the same recognition, These changes in eligibility and submission guidelines reflect the evolution of distribution models in the entertainment industry.
Variety, July 22nd – Comic-Con: What Joss Whedon Has Planned for 'The Avengers' Sequel, by Marc Graser.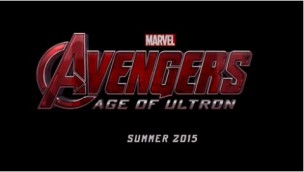 Just days after revealing "The Avengers: Age of Ultron" as the name of "The Avengers" sequel during Marvel's Comic-Con panel, Joss Whedon has given fans a little more to get excited about leading up to the film's release. There's the logo that Whedon revealed during the final minutes of Marvel's Comic-Con panel, and details about the script. Whedon is telling his version of Ultron's origin story and says the sequel will be more global and a little bit darker than the first film. Don't forget to check out Actors Reporter coverage of Comic Con at Actors Reporter.
I'm your host Laci Kay. Thank you for watching. Please send any questions or comments to TradeVine@ActorsReporter.com And, remember, you heard it through the TradeVine.