TradeVine entertainment news highlights for week ending December 21st 2012 with Yi Tian
THE PURPOSE OF THE TRADEVINE IS TO ENCOURAGE THE ENTERTAINMENT INDUSTRY TO READ THEIR TRADES: VARIETY, HOLLYWOOD REPORTER, BACK STAGE, ETC. ENJOY LEARNING ABOUT YOUR INDUSTRY.
EACH FRIDAY, THE TRADEVINE SEEKS OUT A FEW OF THE INFORMATIVE TRADE ARTICLES YOU MAY HAVE MISSED. VISIT THE TRADE, ITSELF, FOR THE ENTIRE ARTICLE.
Hi everybody, I'm Yi Tian of the Actors Reporter and welcome to the TradeVine. Our goal at the TradeVine is to help you stay informed and to keep up with some of the entertainment news you may have missed in the Trades, such as The Hollywood Reporter, Daily Variety, and Backstage.
Back Stage, December 13th – In the Backstage Expert Section, 5 Simple Steps To an Acting Career, by David Patrick Green. Acting teacher David Patrick Green offers five simple steps that anyone can follow. He calls it Hack Hollywood. The steps are: 1. Know yourself. 2. Know the Craft. Take acting classes, train and prepare. If you need to, step back and improve your skills. 3. Know the Business. If you want to know about a business, work in it. The best way to learn is on-the-job. 4. Know the People. If you're going to get anywhere in this life, the right people need to know, like, and trust you. 5. Become Known. Once you have some credits and a few key relationships, your team can really get to work leveraging your stellar reputation.
Hollywood Reporter, December 17th – Nielsen and Twitter Partner for Social Media TV Ratings, by Michael O'Connell. The eternally sticky question of how to most accurately measure TV viewership and audience engagement may be a little clearer this time next year. Nielsen and Twitter announced that they're partnering on a new industry standard metric that will gauge penetration based entirely on data from the popular micro-blogging website and social network. Online streaming, OnDemand and time-shifted viewing have all altered the way television is consumed by audiences. The Nielsen Twitter TV Rating is a significant step forward for the industry, particularly as programmers develop increasingly captivating live TV and new second-screen experiences.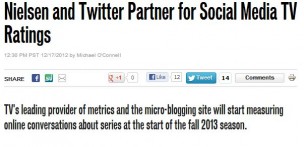 Daily Variety, December 17th – Screener scramble tests Tinseltown's fortitude, by Peter Bart. This is the moment when the floodgates open and screeners come pouring into homes and offices of Academy and guild voters. And it's all going to be worse this year because of the advent of "secret screeners." Voters are distressed by the sheer quantity, and the warnings threatening imprisonment if not torture if screeners fall into alien hands. That's why some distributors hint to voters that there won't be any screeners, but furtively plan to distribute them anyway as "secret screeners." Secret or not, Mr. Bart finds screeners valuable. They provide an opportunity to discover quality films that were previously overlooked, and offer a chance to see films previously avoided because they were too long to sit through in a theater. It's all a nasty business, but it's part of decision time, the moment of truth when voters actually have to make up their minds and decide on winners.
Well, that's it for the TradeVine this week. I'm Yi Tian. Thank you very much for watching. And remember, You heard it through the Tradevine!