TradeVine entertainment news highlights for week ending August 31st 2012 with Brett Walkow
THE PURPOSE OF THE TRADEVINE IS TO ENCOURAGE THE ENTERTAINMENT INDUSTRY TO READ THEIR TRADES: VARIETY, HOLLYWOOD REPORTER, BACK STAGE, ETC. ENJOY LEARNING ABOUT YOUR INDUSTRY.
EACH FRIDAY, THE TRADEVINE SEEKS OUT A FEW OF THE INFORMATIVE TRADE ARTICLES YOU MAY HAVE MISSED. VISIT THE TRADE, ITSELF, FOR THE ENTIRE ARTICLE.
Hi everybody, I'm Brett Walkow of the Actors Reporter and welcome to the TradeVine. This week we've got some great articles, from tech advice to Elvis. Our goal at the TradeVine is to help you stay informed and to keep up with some of the entertainment news you may have missed in the Trades, such as The Hollywood Reporter, Daily Variety, and Backstage.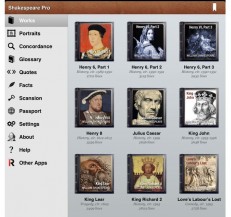 Back Stage, Aug 27th – A Shakespeare Collection for Your Tablet, by Matthew Murray. Working in the theater—in pretty much any capacity—means knowing Shakespeare. Even if you're not doing one of his plays right now, you probably will be eventually, and the Bard's still-strong reign as a popular source of trivia, one-liners, and inspiration for other artists means that you need as good a grasp on his life and works as you can get. The free Shakespeare app for iOS devices gives you all that and more. In addition to containing the full scripts for all of Shakespeare's plays and the texts of his sonnets and narrative poems, the app also includes in-depth scene-by-scene breakdowns of the action and detailed profiles that present every character's story from beginning to end and provide a full list of scenes in which he or she appears. An expanded edition of the app, Shakespeare Pro, is available in the App Store for $9.99. What will they think of next?
The Hollywood Reporter, Aug 28th – Relativity to Handle Domestic TV Distribution for ARC Entertainment, by Gregg Kilday. Relativity Media has struck a deal with ARC Entertainment to acquire domestic TV rights for ARC's wide theatrical releases. Relativity will distribute the titles for all domestic television, including pay TV, free TV and transactional distribution throughout the U.S. The deal will kick off with the films "For Greater Glory" and "Nitro Circus 3D." Relativity president, David Spiegelman says they are thrilled to be working with ARC as their product offers tremendous opportunity for multiple television platforms.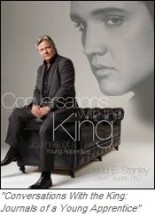 Daily Variety, Aug 28th – BiteSize rocks with Elvis 'Conversations,' by Dave McNary. Newly minted BiteSize Entertainment is going to Graceland, snapping up feature rights to the David E. Stanley and David Gruder's Elvis Presley book "Conversations With the King: Journals of a Young Apprentice." BiteSize plans to adapt the book into a feature film titled "Growing Up Graceland." Project will be based on Stanley's "spiritual journey" with Presley, his stepbrother. Stanley moved into Graceland when he was 4 years old and grew up to become one of Presley's aides. Story will also deal with Presley's spiritual search for meaning during the years before his death in 1977. And don't miss the exclusive interview with David E. Stanley on ActorsE Chat at David E. Stanley Exclusive on ActorsE Chat
Well, that's it for the TradeVine this week. I'm Brett Walkow. Thank you very much for watching. And remember, You heard it through the Tradevine!