TradeVine entertainment news highlights for week ending April 12th 2013 with Laci Kay
THE PURPOSE OF THE TRADEVINE IS TO ENCOURAGE THE ENTERTAINMENT INDUSTRY TO READ THEIR TRADES: VARIETY, HOLLYWOOD REPORTER, BACK STAGE, ETC. ENJOY LEARNING ABOUT YOUR INDUSTRY.
EACH FRIDAY, THE TRADEVINE SEEKS OUT A FEW OF THE INFORMATIVE TRADE ARTICLES YOU MAY HAVE MISSED. VISIT THE TRADE, ITSELF, FOR THE ENTIRE ARTICLE.
Hi everybody, I'm Laci Kay of the Actors Reporter and welcome to the TradeVine. Our goal at the TradeVine is to help you stay informed and to keep up with some of the entertainment news you may have missed in the Trades, such as The Hollywood Reporter, Daily Variety, and Backstage.
Back Stage, April 5th – What 8 Year-old Girls Can Teach Us About Acting, by Steve Braun and Risa Bramon García. In a society that takes every opportunity to sexualize young women, young actors learn that if they act a certain way, they'll get a specific reaction. Advertising, TV, and movies reinforce this notion. Young girls who equate sexuality with performance turn into women who equate sexuality with performance, and an entire lifetime can pass by without those women asking the question, "What do I really want? We can be so focused on getting the industry to pay attention to us and validate us that we ignore our own voice. We first ask ourselves, "What do they want?" or "What can I do to make them pick me?" rather than, "Where do these moments live in me?" Instead of bringing our unique artistry to the world of the story, we ignore our own voice and put the focus on trying to please someone else. The result is that often times we offer an audition or performance that's not connected to our truth. We want what they can give us so badly that we do everything we can to focus on the audience and control their response. And when we do that we quiet our own voice and we shirk our duty to add our unique voice to the narrative.
Hollywood Reporter, April 9th – Trial Alert! Actress Suing IMDb Over Age Revelation Gets Day in Court, by Eriq Gardner. Actress Junie Hoang has gone to trial against IMDb alleging that the publication of her age on her profile page had caused her harm. She said, "in the entertainment industry, youth is king." The trial delivered opinions about the consequence of appearances and the importance of accuracy. One of the things spoken about in the courtroom was IMDb's policy of never removing information; The website only corrects misinformation. The judge in a pre-trial ruling sided with IMDb and ordered the parties to not reference the term "age discrimination" at all in their presentations, but it was perfectly fine to discuss in general how detrimental information on an IMDb profile can result in the loss of acting jobs. The jury may find some sympathy in Hoang's story in the growing public concern about the amount of private data that is collected by companies. On the other hand, IMDb could be successful at portraying itself as a company most concerned about accuracy.
Daily Variety, April 8th – Annette Funicello Dies at 70, by Carmel Dagen. Annette Funicello, who first gained fame as a 12-year-old Mousekeeter on Disney's "The Mickey Mouse Club" in the 1950s and then starred opposite Frankie Avalon in a series of musical beach party films of the early 1960s, has died. She'd battled multiple sclerosis since 1987. She made her debut on "The Mickey Mouse Club" in 1955 after being discovered by Walt Disney at a dance recital in Burbank where she performed as the Swan Queen in "Swan Lake." She was the only member of the "Mickey Mouse Club" cast selected by Disney himself.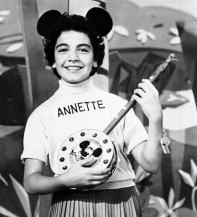 Well, that's it for the TradeVine this week. I'm Laci Kay. Thank you very much for watching. And remember, You heard it through the Tradevine!