The TradeVine highlights entertainment news for week ending August 19th, 2011 with Danika Quinn
THE PURPOSE OF THE TRADEVINE IS TO ENCOURAGE THE ENTERTAINMENT INDUSTRY TO READ THEIR TRADES: VARIETY, HOLLYWOOD REPORTER, BACK STAGE, ETC. ENJOY LEARNING ABOUT YOUR INDUSTRY.
EACH FRIDAY, THE TRADEVINE SEEKS OUT A FEW OF THE INFORMATIVE TRADE ARTICLES YOU MAY HAVE MISSED. VISIT THE TRADE, ITSELF, FOR THE ENTIRE ARTICLE.
[flv]/wp-content/themes/actorsreporter/videos/tradevine/TradeVine_19_August_2011.flv[/flv]
Hello everybody, I'm Danika Quinn of the Actors Reporter and welcome to the TradeVine. Our goal here at the TradeVine is to help you stay informed and to keep up with the trades, such as The Hollywood Reporter, Daily Variety, and Backstage.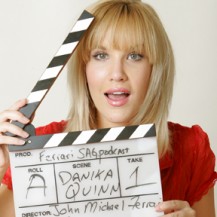 Hollywood Reporter, August 19th – Britain says to Awards Winners: Move Here! New United Kingdom immigration laws invites Oscar, BAFTA and Emmy talent, by Elena Tsirlina. Attention Hollywood. Ever dream of becoming a British citizen? Now's your chance, but only A-listers need apply. On August 9th, the U.K. government unveiled Tier 1, an immigration category designed to attract "exceptional talent." The category forms part of Britain's general effort to attract high-profile and high-net-worth individuals while simultaneously tightening up immigration criteria for virtually everyone else. To be eligible, applicants must have won an Academy Award, a BAFTA, a Golden Globe or an Emmy Award or have been nominated in the five years before applying. The government has set aside 300 spots for anyone who meets the requirements. It will remain to be seen if Hollywood comes knocking on Britain's door.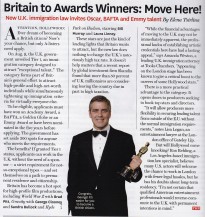 Daily Variety, Tuesday, August 16th – "Google's TV Redux?" by Andrew Wallenstein. Google's deal to acquire Motorola Mobility raises questions about its ambitions to grow the set-top business. Gaining a stronger grasp of the wireless market may be the primary motive behind Google's $12.5 Billion acquisition of Motorola Mobility Holdings, but the buyout's impact on the cable industry is not to be understated. If Google doesn't end up spinning off Motorola's set-top-box business, the Mountain View, California, juggernaut will be in prime position to tackle the TV sector in a way that wasn't achieved with Google TV. Motorola refers to its set-tops as its "home" unit. Larry Page, CEO, said, "I think there's an opportunity to accelerate innovation in the home business by working together with the cable and telco industry as we go through a transition to Internet protocol." Not sure what that means, but it sounds exciting.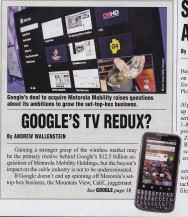 Back Stage, August 11th – 17th – In the Advice section, the article is entitled "You want me to do what?! How do you handle it when you disagree with your director? By Jean Schiffman. Appearing nude onstage may be an extreme example, but, at anytime, actors may find themselves disagreeing with the directors requirements for a number of reasons. First of all, you don't have to accept any project you're offered. And if you're not sure you want to do something, ask more about it. Of course, if you don't like a piece of direction, you need to make sure it's not your own fears that are interfering. On the other hand, it may be a good idea to just try it out and go for broke. Arguing serves no purpose. Either ask about it and don't do it, but don't argue with the director.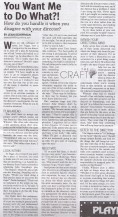 Well, that's it for the TradeVine this week. I'm Danika Quinn. Thank you very much for watching. And remember, You heard it through the Tradevine!