The TradeVine – Entertainment Trade Article Highlights – February 3rd
Welcome to the TradeVine whose purpose is to encourage the entertainment industry to read their trades: Variety, Backstage, Hollywood Reporter, etc. Enjoy learning about your industry.
Each Friday, The TradeVine seeks out a few of the informative trade articles you may have missed. Please visit the trade, itself, for the entire article.

---
Backstage – 5 Simple Ways Actors Can Build Relationships Using Social Media, by Heidi Dean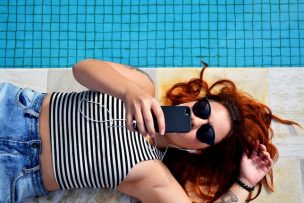 1. Join the party
Platforms like Twitter and Instagram are like a huge party where you don't know anyone. The only way you'll meet someone is by engaging. You can introduce yourself by liking or commenting on their posts or by following them. Social media gives you access to industry professionals without having to get an appointment in their office. Don't wait for them to approach you—take advantage of this tremendous opportunity by making a connection!
You can also use hashtags on Twitter and Instagram to find interesting conversations to join. When you use a #hashtag you are essentially joining an existing conversation. Discover the hashtags other people in the industry are using and, if you have something interesting or insightful to add, join in.
2. Respond
Simply creating a profile on social media isn't enough. To effectively build relationships, you'll need to have a steady presence. Make sure you check your notifications regularly and respond to anyone who replies or comments on your post or tweets in a timely fashion. And don't forget to thank people for retweets or shares, especially if they've done so on multiple occasions. It's another opportunity to start a conversation. Read Entire Artice Here
---
The Hollywood Reporter – Box Office Preview: 'Rings' Challenges 'Split' in Super Bowl Weekend Horror Showdown, by Pamela McClintock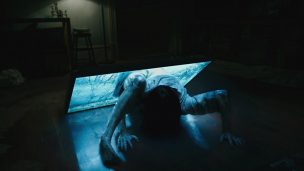 'Rings' revives the franchise after a 12-year absence from the big screen. Elsewhere STX Entertainment opens 'The Space Between Us.'
Horror will be the headline at the Super Bowl weekend box office, where Paramount's threequel Rings takes on M. Night Shayamalan's holdover hit, Split.
Projections show both films grossing as much as $13 million-$14 million. Paramount is being more conservative, suggesting $10 million-$12 million for Rings.
The Super Bowl remains the most-watched televised event of the year, with moviegoing often taking a pummeling on game day. Hannah Montana/Miley Cyrus: Best of Both Worlds Concert Tour, appealing to girls and teenage girls, scored a touchdown of its own in 2008 when debuting to $31.1 million, which remains the top opening of all time for Super Bowl weekend.
Rings, from Paramount, is the third installment in the popular psychological horror franchise about a cursed videotape that kills its viewers seven days later. The first film, The Ring, earned $249.3 million at the global box office in 2002, followed by The Ring Two with $162 million in 2005. Read Entire Artice Here
---
Variety – SAG – AFTRA Draws More Than 500 to Video Game Strike Rally, by Dave McNary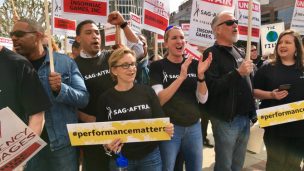 SAG-AFTRA drew more than 500 supporters Thursday to a spirited rally as its video game strike moves into its fourth month.
"We are not going to stop until we have a fair contract for our members," said David White, SAG-AFTRA national executive director. "This is not just about money. It's about fair working conditions and secondary compensation."
The union, which has already picketed Activision, Warner Bros., and Insomniac Games, marched from its Los Angeles headquarters to the park next to the La Brea Tar Pits for the rally.
Negotiations collapsed in October, resulting in SAG-AFTRA calling a strike on Oct. 21 against 11 video game producers: Insomniac Games; Warner Bros.; EA; Activision Publishing; Blindlight; Corps of Discovery Films; Disney Character Voices, Inc.; Formosa Interactive, LLC; Interactive Associates; Take 2 Interactive Software; and VoiceWorks Productions.
Negotiating committee member Phil LaMarr revealed at the rally that a dozen unnamed companies have agreed since the strike began to contracts with terms containing SAG-AFTRA's proposal — which provide for residuals, vocal-stress protections, coverage of stunt coordinators, and disclosure of what the work entails before the performer agrees to the job. Read Entire Artice Here
---
Please send any questions or comments to TradeVine@ActorsReporter.com
---
And, remember, you heard it through The TradeVine.
---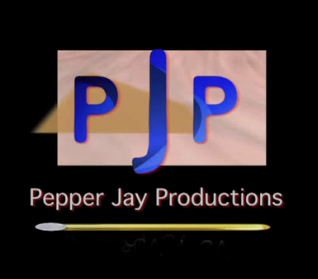 The TradeVine is a weekly article on Actors Reporter, a channel on the Actors Podcast Network, a Pepper Jay Production.