THE SAD SIDE OF LOW CARB DIETING with 11 year old Dharbi Jens
[youtube]http://www.youtube.com/watch?v=iGQoJewl164[/youtube]
THE SAD SIDE OF LOW CARB DIETING
By Christine Avanti Celebrity Nutritionist, Chef and Author of Skinny Chicks Don't Eat Salads
Your Host Dharbi Jens
Recently, a report in the Archives of Internal Medicine stated that people who stuck to a low fat moderate carbohydrate diet for a year not only lost as much weight (30 pounds) as those on a low carb plan, but they also felt happier. The reason: "Too much fat and protein may reduce your levels of mood boosting serotonin, leaving people feeling depressed," says lead study author Grant D. Brinkworth, Ph.D.
The Skinny according to Christine:
If you are feeling down for no apparent reason you should monitor your carbohydrate intake and do not dip below 130 grams per day. Ideally, Christine recommends a minimum of 200 grams per day and says that her clients continue to lose weight at that range.

Hungry for a quick and delicious lunch? Try Christine's 5 MINUTE MINI PIZZAS
At only 382 calories for 2 pizzas they are amazing!!
For more recipes and a healthy weight loss plan check out Christine Avanti's new book Skinny Chicks Don't Eat Salads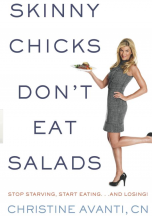 Nutritionist, Chef and Author of Skinny Chicks Don't Eat Salads (Rodale 2009)
Christine has appeared as a guest nutrition expert and/or a healthy chef on the Today Show, Dancing with the Stars, Rachael Ray, Tyra, Good Morning America and dozens of others. She can be heard weekly on KLOVE radio and her comments and latest recipes can be found in magazines such as US Weekly, Health, Fitness, and InStyle.
Christine has had the privilege of working with celebrities such as Chelsea Handler, Audrina Patridge, Samantha Harris, Giuliana Rancic, Elizabeth Berkley, Kym Johnson, Jeremy Piven, Jason Statham, Johnny Galecki, Rich Sommer, Marcus Allen, Henry Winkler and Steven Seagal.
Christine is a graduate of the Westlake Culinary Institute professional chef program, she is a member of the International Association of Culinary Professionals and teaches cooking at the Academy of Culinary Education. She holds an Associate of Science Degree in Applied Nutrition and Nutrition Certification from Huntington College of Health Sciences. She is a respected speaker and member of the National Association of Nutrition Professionals and her business is located in Los Angeles.
www.christineavanti.com
Christine Avanti Nutrition, Inc.
10323 Santa Monica Blvd., Suite 106 ,
Century City, CA 90025
Office: 310-795-9203
Fax: 310-979-9112