The Lodger (1927)*** – Retro Movie Review by Michael E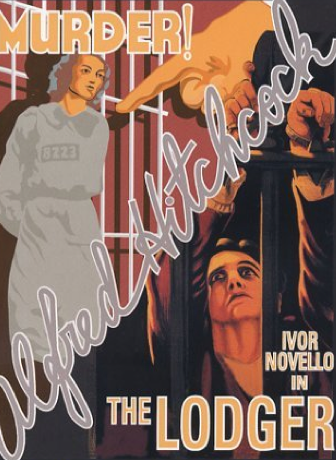 The Lodger: A strange man (Novello) enters and effects the lives of others. Is Ivor Novello a murderer?
The Lodger (1927) *** Stars
Runtime: 68 minutes
Rated: Unrated
Director: Alfred Hitchcock
One can probably say that Alfred Hitchcock is my favorite director. How can he not be? From classic movies like "Psycho," "Vertigo," or my favorite, "Rear Window," Hitchcock developed and engulfed the scare concept with ease. Enter "The Lodger," a silent film which "Hitch" called his very first true thriller.
A serial killer known as "The Avenger" is on the loose in London, murdering blonde women. Ivor Novello plays The Lodger, and he arrives at the home of the Bunting family looking for a place to stay. Daisy Bunting (played by June, no last name given) is immediately attracted to this tall, handsome man, much to the chagrin of her detective boyfriend, Joe (Malcolm Keen). As Joe's jealousy increases, he begins to suspect the lodger of being "The Avenger."
Ivor Novello stands out as The Lodger. He told the story with his eyes and made me a believer of his work. I am interested in his work prior and after the making of this movie. Although gay in real life, he was a major star in the 1920's starring opposite a bevy of beautiful women. Novello's hard work paid off as his movies were extremely successful.
Stay tuned!
As for my cohorts:
"The Lodger" draws on Jack the Ripper lore from 1888, a 1911 magazine story, a 1913 novel and a 1915 play. The title character is a suspect in a string of Tuesday night murders of blondes. The orchestra assigns a motif for his key scenes: "a simple modal melody played over a restless ostinato of open fifths." Bill Stamets, Chicago free-lance writer.
"The picture has a very, very excellent beginning, a mediocre middle and a most deplorable ending. A minor fault is that its running time is about fifteen minutes too long." New York Times top critic.
"Not a great film, but a remarkable one, with Hitchcock at his most innovative." Dave Kehr, Chicago Reader.
---
Michael's rating system:
1/2 Terrible movie (Bomb)
Not a good movie, just missed being a bomb
*1/2 Bad movie
** Boring movie
*** Good, solid movie
***1/2 Great movie, just missed being a classic
****Classic movie
Retro Movie Review by Michael E on Actors Reporter, a channel on the Actors Podcast Network, a Pepper Jay Production.