Red Carpet at the screening of Hardflip with John Schneider and cast and crew
Red Carpet at the screening of Hardflip with John Schneider
What do you do when your life takes a hard flip? Hardflip stars Randy Wayne, John Schnieder, Sean Michael Afable, Christopher Michael, Jason Dundas, Christian Hosoi, Brian Summer, Luis Tolentino and Rosanna Arquette as Bethany Jones. Hardflip may also have the best skateboarding you've ever experienced.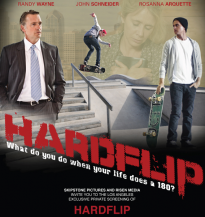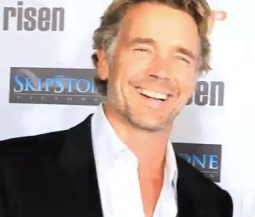 John Schneider chats about his role in Hardflip and his various upcoming projects, his favorite endeavor Childrens Miracle Network, and his favorite role as Jonathan Kent on Smallville, his role as Bo Duke on Dukes of Hazzard, and his recent appearance on Glee.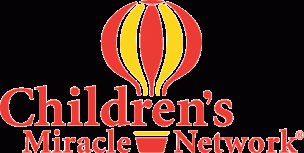 Visit John Schneider on IMDb at http://www.imdb.com/name/nm0773884/
Want to learn how John Schneider dropped 30 pounds for Desperate Housewives? Go to http://johnschneider.net/
Steve Nave on the red carpet with director Johnny Remo, co-executive producers Allan Camaisa, Megan Camaisa, director of photography Rudy Harbon, and 8 year old Evan Doherty, the youngest skateboard 720 lander of all time.
Johnny Remo is the writer, director, and producer of Hardflip. Johnny talks about how he came up with the idea for Hardflip, a movie about forgiveness, and why it's important to create movies with a moral message for youth. Johnny Remo also chats about working with John Schneider.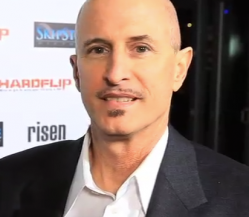 Allan Camaisa is the executed producer of Hardflip and the founder and publisher of The Risen Project. Allan sponsored last year's Christian Film Festival. Steve Nave also chats with co-Executive Producer Megan Camaisa.
For more information about The Risen Product, please visit http://www.risenproject.org/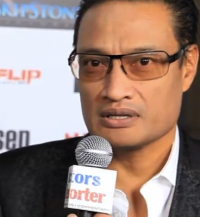 Steve Nave chats with one of the greatest skateboarders of all time, Christian Hosoi, actress host Mary Jo Gruber (Jasmine in Hardflip), publicist Tamara Wentworth, Tommy Lee Thomas, actress host Mindy Thomas, co-executive producer of the iTV Fest Frank Zanca, actor Corey Sorensen (Stupak in Hardflip), writer Dan Backman, actress singer Louise Griffith (Denise in Hardflip), and professional skateboarder Brian Sumner (Brian in Hardflip).
Perhaps the best skateboarder in the world, Christian Hosoi, played himself in Hardflip. Christian speaks about Hardflip as a story of second chances and a message of hope. Christian also shares about his experiences with drugs and prison, where he opened up a Bible for the first time.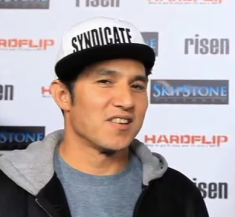 Steve Nave speaks with some of the skateboarders from Ignition Skate Ministry that came to the screening of Hardflip. Steve also catches up with actor Yves Bright (who plays the role of Dr Sheldon in Hardflip. Also on the red carpet Steve found actors Larry Ziff (whose wife Lorraine and son Matthew were Kala and Jerry in Hardflip), Raquel Gardner, and the actors from a new TV series "One Warm Night", including Justin Lee, Ryan Tseng, Tony Kongphan, Koko Laimana, Jared Hernandez, Julie Manriquez, and Sean Michael Afable, who also plays the role of Joey in Hardflip. Steve also chats with actor Justin Schwan.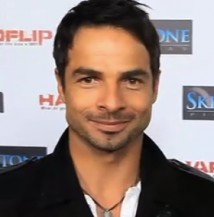 Distribution is through Digital Filmz International and Risen Media
Production company is SkipStone Pictures
SkipStone Pictures was created to develop, produce, and distribute engaging entertainment with social significance and inspiring messages that touch the heart and stir the soul. SkipStone Pictures is poised to establish itself as an industry leader in producing Faith and Family based entertainment that relays, challenges, and ignites true purpose and passion.
Produced and Directed by Johnny Remo
Written by Daniel Backman and Jonny Remo
Executive Producer Allan Camaisa
For more information about Hardflip, please visit www.skipstonepictures.com
Hardflip on Facebook: https://www.facebook.com/#!/hardflipmovie
Calendar Girl and Events is a show on Actors Reporter, a site on the Actors Podcast Network, a Pepper Jay Production.