Party Charlie Party Planning Tip #26: Coat Checking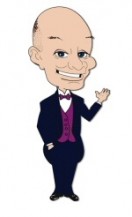 <p< < p="">
Coat Check – Planning and Set Up
<p< < p="">
Here are some tips on making sure your guests leave with the outerwear they came in with.
INFORMAL COAT CHECK:
Set aside one room as the coast check room. For a limited number of guests, it's perfectly fine to neatly pile the coats on a bed if your coat closet is full.
If you have many guests or you'd just like to have a more organized way of taking care of the coats, empty your hallway closets and post a sign on the closet doors indicating to guets that they can hang their coasts inside.
For a relatively low price, you can rent an expandable rolling coat rack with hangers.
FORMAL COAT CHECK:
Catering, party rental, and party planning companies usually offer coat check services. The coat check staff will be in charge of keeping track of the coats and getting them back to their rightful owners. If you're renting a room in a hotel or country club, find out if the coat check service costs extra or if it's included in the package.
If you're holding a charity event and having a formal coat check, it's perfectly acceptable to recoup your costs from yuor guests. You can charge them anywhere from $1 or $3 per coat.
If you're hosting a large cocktail or holiday party in your home, consider the cost of having a coat check as part of your party budget. You wouldn't expect to go to a friend's home and pay to hang up your coat.
At your home, tip jars for coat checkers are usually not the best idea.
<p< < p="">
For more information on bars, watch the video, above, and purchase Party Planning Secrets; the Ultimate Guide to a Successful Party at Party Charlie's Website
<p< < p="">
---
<p< < p="">
Party Charlie is a monthly podcast on Actors Reporter, a channel on the Actors Podcast Network, a Pepper Jay Production.

<p< < p=""></p< <></p< <></p< <></p< <></p< <></p< <>