Party Charlie Party Planning Tip #25 – Use Volunteers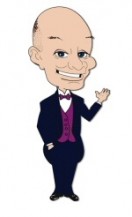 <p< < p="">
<p< < p="">
Use Volunteers at your Party. But know, not all volunteers are created equal! Some people will do a little more and others a little less. But how you, as the party host, structure your volunteers … that will make the difference.
Break your volunteers up into 3 segments:
1. The set up.
2. During the party.
3. The breakdown.
Secret: When giving your volunteer a task, ask them if this is something they would like to do. Be specific in describing your requested task. Ie, can you keep the back area clean by the pool?
<p< < p="">
For more information on bars, watch the video, above, and purchase Party Planning Secrets; the Ultimate Guide to a Successful Party at Party Charlie's Website
<p< < p="">
---
<p< < p="">
Party Charlie is a monthly show on Actors Reporter, a channel on the Actors Podcast Network, a Pepper Jay Production.

<p< < p=""></p< <></p< <></p< <></p< <></p< <></p< <>