Party Charlie Party Planning Tip #22 – Buffets: How to Design, Set Up and Organize
<p< < p=""> <p< < p="">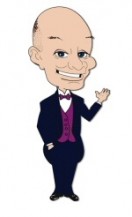 <p< < p=""> <p< < p=""> </p< <></p< <>
What goes on the buffet? Plates, napkins, utensils, and food. Decorating your buffet is a great idea, but make sure you have room for your essential items.
If you're having just one main dish and a few side dishes, you may be able to use one large buffet table. However, if you're having a lot of different types of food, consider setting up buffet tables as food stations throughout your venue.
Put all your cold food together: salads, cold sandwiches, etc. Similarly, put all your hot foods together.
Always serve your cold foods first on the buffet. You'll want your guests to choose their cold foods and then decide on their hot foods. This assures your hot foods won't be cold by the time they walk back to their tables.
For more information on buffets, watch the video, above, and purchase Party Planning Secrets; the Ultimate Guide to a Successful Party at Party Charlie's Website
<p< < p=""> <p< < p="">
Party Charlie is a monthly show on Actors Reporter, a channel on the Actors Podcast Network, a Pepper Jay Production. <p< < p=""></p< <>
</p< <></p< <></p< <></p< <>