Party Charlie Party Planning Tip #19 – BBQ – Insects – The Uninvited Guests by Charlie Scola
Insects – The Uninvited Guests <p< < p=""> <p< < p=""> </p< <></p< <>
Here are some good tips on how to keep the bugs away so that you and your guests can enjoy your outdoor party:
• Well before your guests arrive, spray the rims of your trash cans with insecticide to keep away bees and crawling bugs. Doing this well in advance will ensure that your guests won't smell the insecticide.
• Set up citronella candles around the party perimeters to keep mosquitoes away. Make sure the candles are safe, level, and in open, well-ventilated areas.
• Put the legs of your tables into four sturdy pans or bowls of water. Ants won't be able to climb up the table legs.
• Sprinkle salt around the area where you'll be eating. Ants won't cross over the salt trails that you put in the grass.
• Wash the top of your table with white vinegar. Most insects hate vinegar.
<p< < p=""> <p< < p="">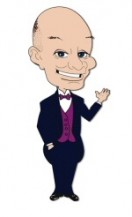 Table Coverings – Linens and Paper & Table Setting <p< < p=""> </p< <>
Paper table coverings are an inexpensive way to decorate your tables with having to rent table linens. Paper coverings come in a wide variety of colors, patterns, and themes. <p< < p=""> </p< <>
If you don't want paper coverings, companies that rent table and chairs also generally rent a variety of linens. You can find anything from traditional damask to contemporary patterns, stripes, plaids, themed, and checkered patterns. They are also helpful in recommending your linen options. <p< < p=""> </p< <>
If your event is casual, you can cover the table with a cloth that is long enough to drape over the table edge. It doesn't have to reach the floor. However, here is what you'll need for round and banquet tables so your linen drapes to the ground for a formal setting: <p< < p=""> <p< < p=""> </p< <></p< <>
Table Size: Linen Size:
30" & 36" 90" round
42" 102" round
48" & 54" 108" round
60" & 66" 120" round
72" 132" round <p< < p=""> </p< <>
6' x 18" or 24" 10 ft banquet
8' x 18" or 30" 10 or 12 ft banquet
4' x 24" or 30" 10 ft banquet
5' x 30" 10 ft banquet
6' x 30" or 40" 10 ft banquet
8' x 40" 12 ft banquet
30" square 90 inches
48" square 102 or 108 inches
<p< < p=""> <p< < p="">
Party Charlie is a monthly show on Actors Reporter, a channel on the Actors Podcast Network, a Pepper Jay Production.
</p< <></p< <></p< <></p< <>