Magical Motivation – The Challenge of Being Positive by Jaime Kalman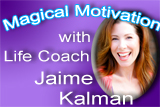 Empowerment coach Jaime Kalman explains the ins and outs of the topic:
The Challenge of Being Positive
Feel bombarded by negativity these days? On this week's Magical Motivation, empowerment specialist Jamie Kalman teaches how to maintain calm, peace and a sense of empowerment when the people and world around you threaten to pull you down. From the news to your family, negative messages try worm their way into your consciousness. With four easy steps, Jamie will show you how to stay positive and peaceful. Breath it out. Surround yourself with a golden Bubble of protection. Jamie Kalman will help you see that peace is a choice that lets love and light enter your life.
Empowerment coach Jaime Kalman explains the ins and outs of the topic:
The Challenge of Being Positive
Jaime Kalman
Certified Hypnotherapist & Empowerment Specialist
Helping people explore the challenge of being positive.
Want free tips for creating happiness, balance, and more inner peace in your daily life?
Inspired Healing and Awareness
(323) 632-3925
Learn more in the video, above, with certified empowerment coach, Jaime Kalman.
Magical Motivation is a monthly self-help podcast by empowerment coach Jaime Kalman on Actors Reporter, an entertainment trade magazine and channel on the Actors Podcast Network, a Pepper Jay Production.