Magical Motivation – How to Deal With Challenging Personalities with Empowerment coach Jaime Kalman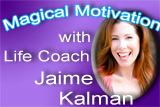 Life coach Jaime Kalman gives self help hints on how to deal with challenging personalities.
How many of you know someone, whether in your family or in your circle of friends, or a co-worker … who drives you crazy… maybe they are a challenging personality!!
Rather than try to change the person who is difficult, we can change ourselves. We can change our perspective of dealing with this person. The questions is: what "button" are they pushing in me to create my emotional reaction to that person. Maybe we find that there is something in ourselves that we don't like … maybe we are reacting to something in us. Study the reactions we are having to the challenging personality. Maybe the answer is in ourselves. Let's be more conscious and more accepting. Give it to our higher power.
For more information, please visit Inspired Healing and Awareness at http://inspiredhealingandawareness.com/
Magical Motivation is a monthly show on Actors Reporter, an entertainment only trade magazine and channel on the Actors Podcast Network, a Pepper Jay Production.