Magical Motivation – How to Create Breakthroughs with Empowerment coach Jaime Kalman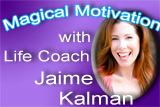 Empowerment coach Jaime Kalman provides hints on how to create breakthroughs.
Life coach Jaime Kalman gives self help hints on how to create breakthroughs in your life when it comes to goal changing and goal achievement using the universal law of cause and effect. There are 5 steps one can use to create breakthroughs using the law of cause and effect.
1. Look specifically at the results you are currently creating in your life. Take inventory.
2. Ask yourself, how do you feel about the actions you're taking right now that are creating the results you are creating now. And, what actions are you not taking to achieve your goal?
3. How do you "image" yourself? Do you see yourself as not being capable, not having what it take about your actions or non-actions. How are you talking about your goals? How are you declaring the things you want?
4. Take responsibility for your results: the good, the bad, and the ugly. Take power. Declare what you want.
5. So it. Take the first step toward your goals.
For more information, please visit Inspired Healing and Awareness at http://inspiredhealingandawareness.com/
Magical Motivation is a monthly show on Actors Reporter, an entertainment only trade magazine and channel on the Actors Podcast Network, a Pepper Jay Production.