Magical Motivation – Aligning Your Goals with life coach Jaime Kalman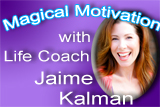 Life coach Jaime Kalman shares insights on how to assess and align your goals.
Episode 1: Aligning Your Goals
For more information, please visit Inspired Healing and Awareness at http://inspiredhealingandawareness.com/
Enjoy these Motivational Quickies with empowerment coach Jaime Kalman!
Magical Motivation is a show on Actors Reporter, a channel on the Actors Podcast Network, a Pepper Jay Production.