International Entertainment Event Calendar – December 2017
Submissions to the Actors Reporter Event Calendar have been received from around the world. This is the final International Entertainment Event Calendar for Actors Reporter. We hope you have enjoyed the ten (10) years of listings for on-going events, film festivals, competitions, dinner theatre, small theatre, concerts, contests, vacation destinations, and much more:
---

Through 15 January 2018 – Hurricane Andrew: 25 Years Later – Yes, it's been a quarter of a century since Hurricane Andrew roared through Miami (on Aug. 16) and there is a museum exhibit that reflects on the historic Category 5 storm with amazing video footage, stories from people who lived through it and historic photos.
History Miami
---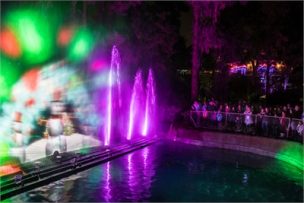 Now-7th January 2018 – Los Angeles Zoo Lights. 6-10PM. Los Angeles, CA.
LA Zoo Lights
---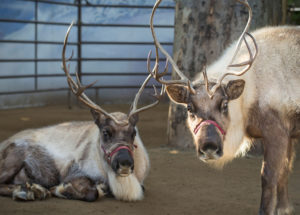 Now – 7th January 2018 – Reindeer Romp Holiday Celebration. The L.A. Zoo presents the only opportunity in Los Angeles to see a herd of live reindeer at its Reindeer Romp holiday celebration. 10-4 PM. Guests are invited to make the most of the holiday season with a full day of fun and adventure at the Zoo, an especially beautiful and enriching place to spend quality time with kids and extended family during the holidays. Los Angeles, CA.
LA Zoo
---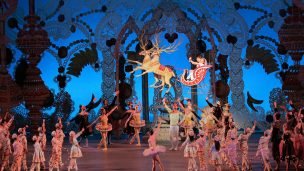 Now-31st December 2017 – The Nutcracker Ballet. This magical 1954 production, set to Tchaikovsky's incredible score, includes the full New York City Ballet company and two casts of School of American Ballet students, as well as an onstage blizzard and a Christmas tree that grows from 12 to 40 feet. In the end, however, Balanchine's choreography is what holds it all together. It's enchanting. New York, NY.
New York City Theatre
---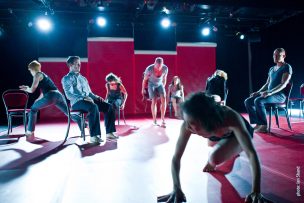 7th-10th December 2017 – Choreographer Stefanie Nelson presents the NYC premiere of her work A MY NAME IS…, an exploration of memory and forgetting inspired by the choreographer's personal encounter with a family member's dementia. New York, NY.
SyndanceGroup
---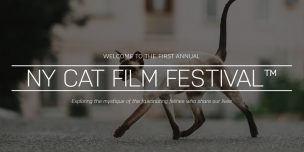 9th December 2017 – 1st Annual New York Cat Film Festival. Featuring "Nobody Owns a Cat" and "Little Works of Art" each a medley of films celebrating the fascinating mystique of felines. New York, NY.
Cat Film Festival
---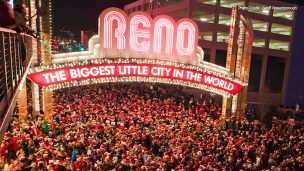 9th December 2017 – Reno Santa Crawl. The Reno Santa Pub Crawl is the largest Santa Pub Crawl in the country as thousands of Santas descend upon downtown to enjoy good spirits & yule-tide cheer! Reno, NV.
Visit Reno Tahoe
---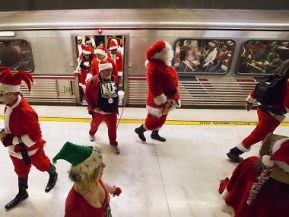 9th December 2017 – Los Angeles SantaCon. SantaCon is a holiday celebration with a pretty simple premise. Get a whole bunch of people to dress up like Santa Claus and hit the town. They party and pub-crawl and have a jolly old time. Want to join in? You're (really!) going to need a costume; they're mandatory. Los Angeles, CA.
SantaCon
---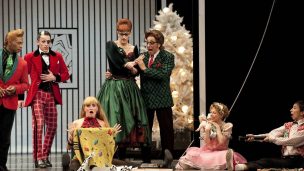 12th-20th December 2017 – Mark Morris's insouciant, gender-bent, swingin' '70s version of The Nutcracker returns for more holiday-inspired lunacy; as ever, The Hard Nut's gorgeousness must be shared, so be sure to take your sugarplum. New York, NY.
Bam.org
---
13th December 2017 – Villa Zorayda Museum Candlelight Tour. Join us this Holiday Season for the Villa Zorayda's 8th Annual "Candlelight Tour" of the museum which are offered on select evenings during St. Augustine's "Nights of Lights" Celebration. St. Augustine, FL.
Visit Florida
---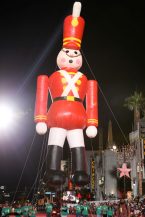 15th December 2018 – The Hollywood Christmas Parade will air nationwide on the CW. The live event was on the 26th November on Hollywood Blvd. Hollywood, CA.
The Hollywood Christmas Parade
---
15th & 18th December 2017 – Victorian Christmas Tea. Come enjoy an elegant Victorian Afternoon Tea presented by Bonnie Calliotte of De'Tours Traveling Tea Room. Learn about Christmas traditions in the Victorian era and pioneer Florida, and see Manatee Village decorated for the holiday season. Bradenton, FL.
Visit Florida
---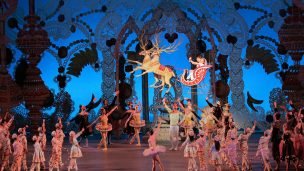 17th December 2017 – Ballet Pensacola's The Nutcracker. Follow the adventures of Clara and her Nutcracker Prince as they battle the Mouse King and embark on a journey through the Land of the Sweets with the guidance of the Sugar Plum Fairy. Pensacola, FL.
Visit Florida
---
17th December 2017 – 13th Annual Los Angeles International Children's Film Festival. Presenting nearly 100 films from around the world—full-length and short animation, live action, and documentary films—the festival is organized for different age groups, from toddlers through teenagers. Select filmmakers and actors are present for Q&A sessions after each screening. Los Angeles, CA.
LACMA
---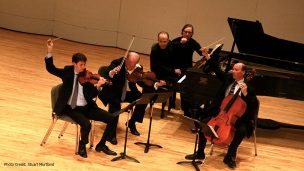 26th-31st December 2017 – Nevada Chamber Music Festival. Presented by the Reno Chamber Orchestra, the annual festival features eleven unique concerts showcasing world class musicians and the best in classical music, culminating with a New Year's Day celebration. Reno, NV.
Visit Reno Tahoe
---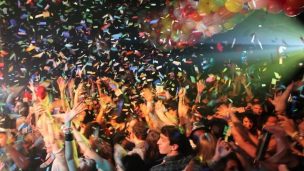 31st December 2017 – Grand Park New Years Eve LA. Grand Park promises to be one of the most family-friendly—and affordable—NYE destinations in the city for the third year in a row. Flanked by the Music Center and City Hall, every inch of this three-block greenspace will be covered in culture, including City Hall, which will be used as a 22-story canvas for projections of photo-booth pics taken onsite, 3-D projections and a countdown. Crowds will rock steady to a soundtrack of DJ-driven tunes and live bands, and count down with a new, interactive countdown featuring 3-D digital video mapping on two sides of City Hall.
New Years Eve LA
---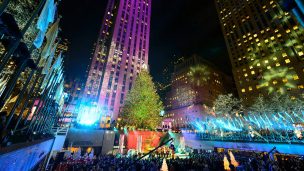 31st December 2017 – AMC 42nd Street Times Square New Years Eve. If you absolutely have to be in Times Square for New Year's, this is the ticket to buy. Whether you're watching films or the ball drop, you'll be in heart of it without being sardine-packed outside. New York, NY.
New Years Eve NYC
---
On-going: Every Sunday – 9AM to 5PM – Rain or Shine. The Melrose Trading Post LAs favorite flea market. On the Campus of Fairfax High School, Parking entrance at Clinton and Fairfax. 7850 Melrose Avenue, Los Angeles, California
Melrose Trading Post
---
On-going: Things are heating up in Las Vegas, Nevada.

Pool parties, comedians, DJs, concerts, UFC 160 and more! Start your summer early.
You can book your entire trip – hotel, flight and shows – at the one and only LasVegas.com
---
On-Going: Tommy Guns Garage Dinner Theatre
CHICAGO'S LONGEST RUNNING AUDIENCE INTERACTIVE DINNER SHOW



Tommy Guns Garage
2114 South Wabash, Chicago, Illinois
---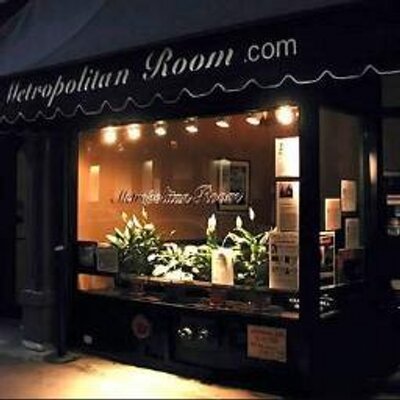 On-going: Metropolitan Room – Internationally Acclaimed Jazz Cabaret
The World Capital of Cabaret.
34 West 22nd Street, New York City
Metropolitan Room – It's where the action is!
This Flatiron "class act" aims to revive the "golden age of cabaret" as "up-and-coming stars" and "renowned performers" alike take the stage in an "intimate" room with "great acoustics"; run with "professionalism" by a "gracious staff", it's "worth every penny" for a "sophisticated" night out. – ZAGAT 2014
FOR TICKETS : MetropolitanRoom.com
FOR RESERVATIONS: 212.206.0440
---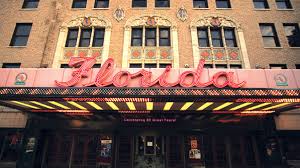 The Florida Theatre
Located in downtown Jacksonville; listing of coming concerts and plays.
128 E Forsyth St, Jacksonville, FL 32205 / (904) 355-5661
Florida Theatre
---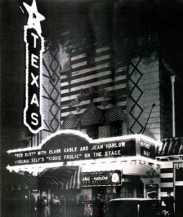 On-going: Welcome to the site of the Texas Theatre, the historic and newly-renovated movie theatre in Dallas, Texas. Visit the site for event and movie showtime
231 W Jefferson Blvd, Dallas, Texas 75208 / (214) 948-1546
The Texas Theatre
---
On-going: Broadway World
A theatre resource featuring news, message boards, video previews, show information, photos and biographies. BroadwayWorld.com is the The #1 Web Site for Broadway, Theatre, and Live Entertainment Around the World!
---

On-going: Think Hollywood in California is the only place with fun events?

Check out
Visit Hollywood Florida to stay current on South Florida's ever-changing entertainment, events and Hollywood's unique style and local flavor.
---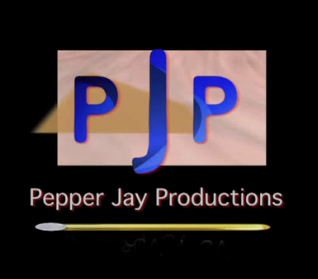 Actors Reporter is a monthly event calendar of international entertainment industry-related events. Actors Reporter is an entertainment trade magazine (ezine) channel on the Actors Podcast Network, a Pepper Jay Production.