Exclusive Interview with Andrew Robinson on his April Showers – Columbine Tragedy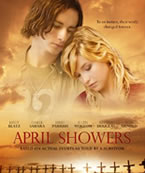 Interviews of the Writer/Director, Producer, and Executive Producer of "April Showers," and Clips of the film.
Interview with Andrew Robinson (mobile version)
Interview with Jenna Edwards (mobile version)
Interview with Tim Owens (mobile version)
---
Insightful interview with Andrew Robinson, the writer and director of "April Showers," who was a 17 year old senior at Colorado's Columbine High School on that fateful day on April 20th, 1999, when 2 students in his theatre arts class, Eric Harris and Dylan Klebold, shot up their school, killing 13 people, injuring 24 others, before turning their guns on themselves. "April Showers" is about that day from Andrew's perspective and the 5 days after the tragedy, weaving part of what happened that day with fictional characters. Tom Arnold ("True Lies") was wonderful as Andrew's computer science teacher.
Informative interview with Jenna Edwards, Producer of "April Showers," explains the road she took to get the film made, including the use of local police and emergency personnel that used the shooting of the film as an emergency training exercise.
Helpful interview with Tim Owens, of EMO Films, Executive Producer of "April Showers," and how he was introduced to the project at AFM in Santa Monica, California.
In honor of School Safety Week, Pure+Motive is offering APRIL SHOWERS on Hulu (www.hulu.com) for free! Please support this important film by watching it and starting conversations with your children, parents, teachers and each other about how we can put an end to school violence. To see entire film, please visit: http://www.hulu.com/april-showers
Interviews is a show on Actors Reporter, a channel on the Actors Podcast Network, a Pepper Jay Production.