Entertainment Industry Related Events April 2014
On-going: Broadway World
A theatre resource featuring news, message boards, video previews, show information, photos and biographies. BroadwayWorld.com is the The #1 Web Site for Broadway, Theatre, and Live Entertainment Around the World!

BroadwayWorld.com
---
On-going: Tommy Guns Garage Dinner Theatre
CHICAGO'S LONGEST RUNNING AUDIENCE INTERACTIVE DINNER SHOW



Tommy Guns Garage
2114 South Wabash, Chicago, Illinois
---

Think Hollywood in California is the only place with fun events?

Check out Visit Hollywood Florida to stay current on South Florida's ever-changing entertainment, events and Hollywood's unique style and local flavor.
---
On-going: Things are heating up in Vegas.

Pool parties, comedians, DJs, concerts, UFC 160 and more! Start your summer early.
You can book your entire trip – hotel, flight and shows – at the one and only LasVegas.com
---

April 3rd-7th – Ashland Independent Film Festival in Ashland, Oregon. The ashland independent film festival is five days of the highest quality independent film in this historic town the Washington Post called "a dream you'll never want to leave. AshlandFilm.org
---

April 4th-13th – Sarasota Film Festival in Sarasota, Florida. Their mission is to celebrate the art of filmmaking and the contribution of filmmakers by hosting an international film festival and developing year-long programs for the economic, educational and cultural benefit of our community. SarasotaFilmFestival.com
---

April 5th – Hollywood Half Marathon Run with the Stars. Run down the World Famous Hollywood Blvd with spectators cheering you on. The race starts in front of the Dolby Theatre, home of the Academy Awards, and takes you on a running tour through the heart of Hollywood. 6 AM. HollywoodHalfMarathon.com/event/
---

April 5th – 27th – Pan Asian Repertory Theater to Present NY Premiere of Edward Sakamoto's FISHING FOR WIVES
PAN ASIAN REPERTORY THEATRE continues its 37th Milestone Season with the New York premiere of FISHING FOR WIVES, a comic battle of the sexes written by Edward Sakamoto and directed by Ron Nakahara.
FISHING FOR WIVES is a vintage romantic comedy of errors: Nishi, tired of life as a single fisherman, sends for a picture bride from his native Japan but includes a photo of his handsome friend in his place. The bride arrives and falls in love- with the wrong bachelor- setting off a comic rivalry and a final surprise turn of events, colorfully visualized against the backdrop of the Hawaiian islands.
The cast of FISHING FOR WIVES stars Hawaii natives Bobby Foley (TV's Hawaii Five-0, Girls) and Viet Vo (TV's Lost) as hapless bachelors Nishi and Aoki, who are joined by Akiko Hiroshima (last seen at Pan Asian in TEA), Allison Hiroto, and Kiyo Takami (Kiyohime in 2013's production of DOJOJI).
Performances of FISHING FOR WIVES are Tuesdays through Saturdays at 7:30pm with matinees Sunday at 2:30pm, and special Saturday matinees April 5 and 19 at 2:30pm. The production will begin previews on April 5, 2014 and run until April 27, 2014.
Clurman Theatre at Theatre Row (410 W 42nd Street between 9th and Dyer, New York, New York. The official opening is on Thursday April 10th at 7:30PM.
Tickets are $51.25. Contact Telecharge at 212-239-6200 or TeleCharge.com
---

April 6th-9th – MUSEXPO. brings together some of the leading architects of digital and streaming worldwide to give their overviews of their respect platforms to the proactive content owners and creators from the U.S. and around the world. held at teh Hollywood Roosevelt Hotel in Hollywood, CA. MusExpo.net/musexpoLA14/
---

April 10th – Transcendence premiere Starring: Johnny Depp, Morgan Freeman, and Kate Mara. 6:30 p.m. at the Regency Village Theatre in Westwood Village. Regency Theater Westwood
April 10th-13th – TMC Classic Film Festival. Held over four days in the heart of Hollywood, the TMC Classic Film Festival is a place where movie lovers from around the world can gather to experience classic movies as they were meant to be experienced – on the big screen with the people who made them. FilmFestival.tcm.com
---

April 12th-13th – Los Angeles Times Festival of Books. Attend indoor discussions ranging from enlightening to epic, with today's most talked about authors as well as exclusive film screenings. – See more at: LA Times Festival of Books
---

April 17th-26th – Nashville Film Festival. When you attend any NaFF event – you support the vision and voices of the human spirit. NaFF showcases the work of independent, international filmmakers and screenwriters. NashvilleFilmFestival.org/
---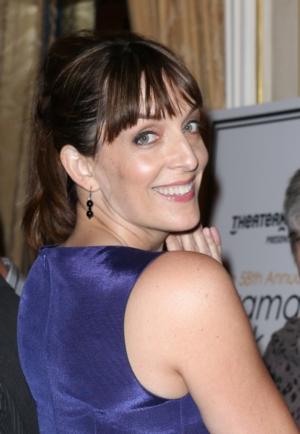 April 17th – Murney, Jordan & More Set for THE WILD PARTY Concert at 54 Below
Andrew Lippa's iconic musical The Wild Party is back and bigger than ever with a special concert at 54 Below. With the help of Charlie Rosen and his 17-piece Broadway Big Band, hearthe show's hits like never before. Join award-winning composer/lyricist Andrew Lippa and some of Broadway's best as they re-imagine and rediscover the score that started it all. The Wild Party Concert at 54 Below
---

April 21st – Premiere of 20th Century Fox's The Other Woman Starring: Cameron Diaz, Kate Upton, and Leslie Mann. 6:30 p.m.at the Regency Village Theatre in Westwood Village.
Reach for the Starz
---

April 23rd-30th – IFFBoston. IFFB
---
April 24th, approximately 2:40pm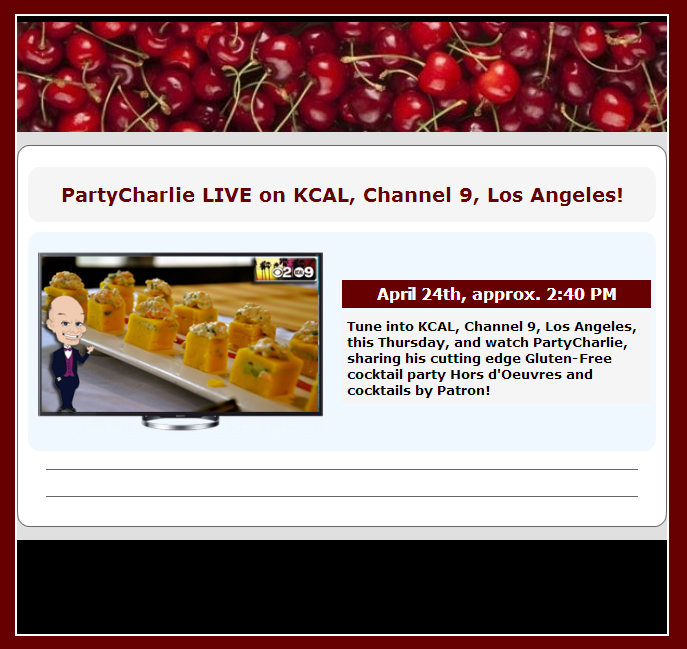 ---

April 28th – Universal Pictures' Neighbors starring: Zac Efron, Seth Rogen, and Lisa Kudrow. 6:30 p.m.at the Regency Village Theatre in Westwood Village. Neighbors on IMDb/
---

April 2014 – Despicable Me: Minion Mayhem is a state-of-the-art motion simulator adventure, debuting at Universal Studios Hollywood. Based on the blockbuster Despicable Me animated films and shorts, and modeled after the ride at Universal's sister park in Florida, the new Despicable Me: Minion Mayhem boasts surprise additions that are unique to Universal Studios Hollywood. DiscoverLosAngeles.com
---

Walt Disney Concert Hall is celebrating its 10th anniversary with a series of special concerts throughout the 2013-14 season. For detailed information on the 10th anniversary concerts – featuring some of the world's great performers from classical, jazz, world music and more – visit the hall's 2013-14 calendar at LAphil.com
---

The $50-million Wallis Annenberg Center for the Performing Arts opened in October 2013 and continues its inaugural season throughout 2014. An entire city block has been transformed into a vibrant new cultural destination, the first performing arts center to be built in Beverly Hills. TheWallis.org/
---

The Italian American Museum of Los Angeles (IAMLA) is the only museum in Southern California dedicated to the Italian-American experience. IAMLA is being built in the historic Italian Hall, located adjacent to Olvera Street in Downtown. The now-restored Italian Hall was constructed in 1908 as a social and cultural center for the Italian community, in what was then the core of the city's Little Italy. The interactive museum documents the history and continuing contributions of Italian-Americans, and also highlights the once-vibrant Italian community of early LA with historical photographs and memorabilia, plus an oral history and research archive.ItalianHall.org
---

May 9 – June 22, 2014 – THE GHOST OF GERSHWIN
The Group Rep presents the world premiere of The
Ghost of Gershwin, with music
by Wayland Pickard, book by Doug Haverty, lyrics by Laura Manning and Wayland Pickard,
directed by Jules Aaron.
Set in today's Brooklyn, a struggling young composer is haunted by the music of George Gershwin until he meets the Ghost of Gershwin and his life is never the same. This romantic musical harkens back to the 1930s when artsy tenants of an apartment building were known to burst into song and dance at the drop of the hat.
The musical features all original songs, a delightful homage to the legacy of American music icons George and Ira Gershwin.
Opens: Friday, May 9th at 8pm
Runs: May 9 – June 22, 2014
Fridays/Saturdays at 8pm; Sunday Matinees at 2pm
Talk-backs: May 18th & June 22
Admission:
$22. Seniors/Students: $17. Groups 10+: $15.
Buy tickets/information: TheGroupRep.com or (818) 763-5990
Lonny Chapman Theatre. 10900 Burbank Blvd. North Hollywood 91601
---
Inclusion on the Actors Reporter calendar is for a fee of $50/month (only $25/month for small theatre productions).
We keep the price low so that small theatre groups may be included.
Interested? Please email info@ActorsReporter.com
Actors Reporter reserves the right to select which entertainment calendar entries to include on its calendar. Thank you.
Calendar Girl on Actors Reporter is a monthly event calendar of entertainment industry-related events. Actors Reporter is an entertainment trade magazine (ezine) channel on the Actors Podcast Network, a Pepper Jay Production.