Dynamic Song Performance Skills
Welcome to Dynamic Song Performance Skills. Pepper Jay and John Michael Ferrari are performance coaches in Los Angeles, California. They train actors, comedians, musicians, public speakers, and singers in the Performance Skills required for them to achieve immediate results. They sharing performance tips.
Whether you're a professional singer, an actor who enjoys singing roles, or you just enjoy singing at parties or with karaoke, song performance skills are fun to learn and are helpful to singers of all genres of music, ranging from country to pop to rap.
The Dynamic Song Performance goal is that you quickly discover how comfortably you improve upon the technical aspects of your craft; including voice, sound, movement, space, and audience psychology.
Enjoy this issue's video article as an introduction to Song Performance, the totality of the physical and emotional journey that singers or actor/singers experience when arriving at believability. On this journey to believability, singers pass through imagination, creativity, and emotion.
We hope you will join us for our next issue of Dynamic Song Performance video article when we answer the question: What's in the song performance skills toolbox?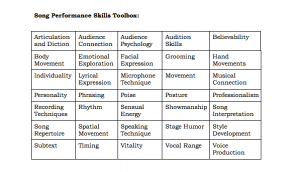 Enjoy the process.