COMIC-CON® 2011 San Diego, California with Actors Reporter's
Mary Jo Gruber
Join Mary Jo Gruber of the Actors Reporter at COMIC-CON® 2011 San Diego, California as she chats with artists, gamers, babes, and those in costume.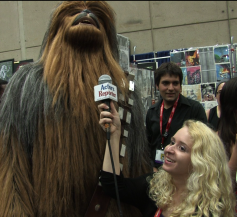 COMIC-CON® International: San Diego, is the home of the largest comic book and popular arts convention in the world! July 21st – 24th, 2011, San Diego Convention Center.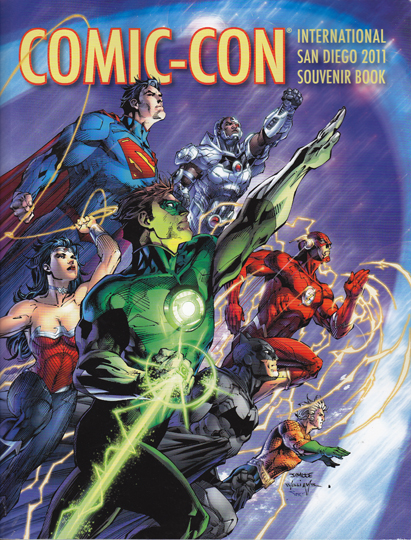 Part 1 – Comic-Con 2011 – (Part 1 – Mobile Version)
Mary Jo gets a Battle Bear, speaks with the Black Swan, Kathryn Leigh Scott from Dark Shadows and Star Trek, Tim Walker from Drawings from the Left, animator Bill Plympton, Jessica Rabbit, Chewbacca, and many others.
Part 2 – Comic-Con 2011 – (Part 2 – Mobile Version)
Mary Jo Gruber mixes it up with actor Dean Haglund, Mondo, the maker of silkscreened movie posters, Archie animator, Rusty Sherrill from RS Art Studio, learns about Geek.Ed, and chats with animator Steve Sievers and Daniel the Turtle and lots of other costumed creatures.
Check out our 2010 Comic-Con coverage on YouTube
Some of the COMIC-CON® 2011 participants included:
About Ken Lashley
Ken has been a comic book artist for over 15 years, and has worked for Marvel, DC, Image, Darkhorse, Top Cow and Wildstorm on some of the biggest titles in the industry — the Flash, Legion of Superheroes, Firestorm, Excalibur, Cable, Xmen, Age of Apocalypse, Xmen Legacy and Deadpool to name a few.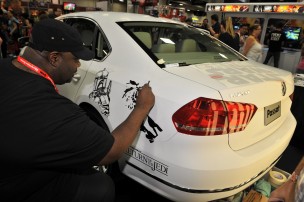 Supa Pirate Booty Hunt by Steve Sievers, co-creator, writer, animator, & voice of Daniel the Turtle www.supapiratebootyhunt.com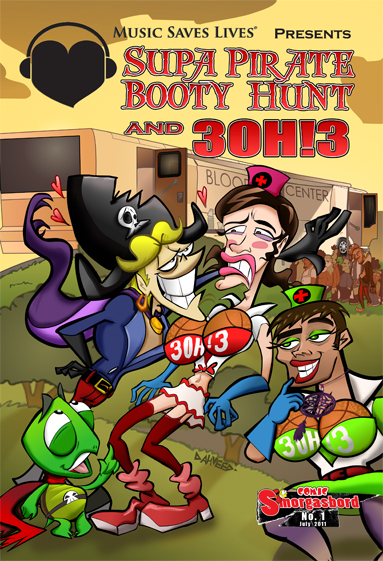 Steve Sievers supports the non-profit Music Saves Lives with his Supa Pirate Booty Hunt characters.
At COMIC-CON® : Kevin Michael Richardson, the voice of Cleveland Jr. on The Cleveland Show and now Panthro on the new Thundercats, Bulkhead on Transformers Prime, Maurice on The Penguins of Madagascar, Mongul in Green Lanter, and many more.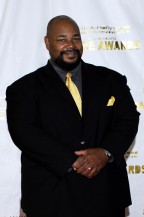 Geek Ed.
"geekEd" Bringing Geek Back to Higher Education – Their panel of college professionals scheduled included Alex Belisario (UC Santa Cruz), Alfred Day (Semester at Sea), Ryan McRae (CSU San Marcos), Tyler Miller (Fresno State), and Emily Sandoval (Cal Poly San Luis Obispo) as they dicussed how geek culture and college life can enhance one another.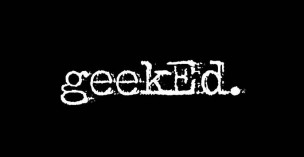 Animator Bill Plympton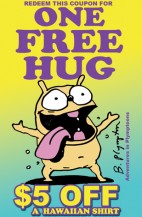 Fans of Cartoon Network's Adventure Time that headed to COMIC-CON® were able to pick up the first items from the upcoming toy line from Jazwares before they launch at Toys"R"Us next month!
Claudio Sanchez, founder of Evil Ink Comics, creator of THE AMORY WARS and KILL AUDIO, as well as front-man for the epic rock band, COHEED AND CAMBRIA, returns with a new series, KEY OF Z.
Harry Potter Alliance is Celebrating End of an Era with Harry Potter Generation. The Alliance Brings fans together to make real change with the series that has impacted millions. The Harry Potter Alliance (HPA) and its members have been busy with its largest undertaking ever over the past nine months: the Deathly Hallows Campaign.
OSCILLOSCOPE LABORATORIES PRESENTS "BELLFLOWER," in which best friends Woodrow (Writer/Director Evan Glodell) and Aiden (Tyler Dawson) spend all of their free time building MAD MAX-inspired flamethrowers and cars in preparation for a global apocalypse. But when Woodrow meets a charismatic young woman and falls hard in love, he and Aiden quickly integrate into a new group of friends, setting off on a journey of love and hate, betrayal, infidelity, and extreme violence more devastating and fiery than any of their apocalyptic fantasies.
Lionsgate presented THE DEVIL'S DOUBLE, based on a gripping, unbelievable true story of money, power and opulent decadence. A white-knuckle ride deep into the lawless playground of excess and violence known as Baghdad, 1987.
Relativity Films presented SHARK NIGHT 3D, in which a sexy summer weekend turns into a blood-soaked nightmare for a group of college students trapped on an island surrounded by voracious underwater predators. A terrifying thrill ride from director David Ellis (The Final Destination, Snakes On a Plane), featuring a red-hot young cast including Sara Paxton (Superhero Movie, Last House on the Left), Dustin Milligan ("90210," Slither), Chris Carmack ("The O.C."), Joel David Moore (Avatar), Chris Zylka (The Amazing Spider Man) and Katharine McPhee (The House Bunny).
Relativity Films also presented IMMORTALS by visionary director Tarsem Singh (The Cell, The Fall). An epic tale of treachery, vengeance and destiny in Immortals, a stylish and spectacular 3-D adventure.


The Hub television network, a destination for kids and their families provided the ultimate fan experience — a lineup of events that includes panel sessions featuring a 45th anniversary tribute to the classic live-action "Batman" series, a behind-the-scenes look at the making of the Daytime Emmy® Award-winning "Transformers Prime" and a sneak-peek at the eagerly anticipated upcoming fall live-action and animated series "The Aquabats Super Show!"
Indie Vest Pictures presented KNIGHTS OF BADASSDOM, a humorous fantasy adventure about a heavy metal rocker who's just gone through a painful breakup with his girlfriend.
SPIKE TV provided a Virtual Mobile Scavenger Hunt based on that network's hit ulti-platform series, "Deadliest Warrior."
Gazillion Entertainment unveiled some updated information on the much anticipated Marvel Universe MMO as well as a new trailer and details for Super Hero Squad Online.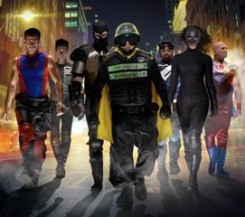 Radical Publishing offered special, limited edition items including:
• Damaged #1, Leonardo Manco Painted Cover Variant
(Limited to 250 copies, only 50 available per day)
• The Last Days of American Crime SDCC Sketch Cover
(Limited to 500 copies, only 100 available per day)
• Damaged #1 Sketch Cover, SDCC Limited Edition
• Damaged #1 Virgin Cover with original sketch by Leonardo Manco
• Driver for the Dead, Time Bomb and The Last Days of American Crime trade paperbacks with mini SDCC-lithographs
• Hotwire Signed Hardcover
• Limited edition art print lithographs
Puppet Heap Moving Picture Company, Co.™, the film division of Puppet Heap, announced the release of their latest short film, "I Knew An Old Lady Who Swallowed a Fly,"a story of gluttony, obsession and veterinary gastronomy, wherein a monstrous series of events inevitably blankets a disquieted seaside village in a strange peace.
Popular paranormal television program 'Ghost Adventures' – Airs Fridays 9PM on Travel Channel. Season five premieres September 23, 2011 9PM.
Zak, Nick and Aaron are on a mission to prove the existence of ghosts using the latest in technology and their trademark "ghost taunts" at haunted locations both domestically and internationally.
eigoMANGA welcomed Dr. Hyun Se Lee. Dr. Lee, regarded as Korea's most renowned and acclaimed comic book creator. Dr. Lee is best known for his graphic novel series 'Armageddon', 'Hard Boil Angel', 'Mythology of The Heavens', and 'Nambul War Stories'.
eigoMANGA also welcomed author Dr. Chang Wan Han. Dr. Han teaches at Sejong University, and is a prolific television producer in Korea. Dr. Han is the driving force of several Korean television shows such as 'Korea Korea' and 'Future Forum 2050'
Femme Fatales Revealed: Behind-The-Scenes of the Hit New TV Series – Inspired by pulp novels, comic books and classic film noir, Femme Fatales, is based on the bestselling magazine of the same name. Every episode features the exploits of powerful and dangerous women who use their survival instincts to escape perilous situations and exude their inner guile.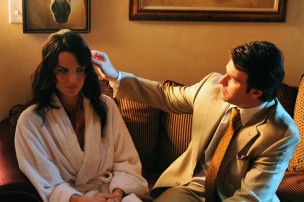 Sketch Theatre has inspired artists worldwide with amazing on-camera sketches by top artists time lapsed over mood-matching music and features contemporary art talents from various fields including traditional, comics, digital visual effects and entertainment
The iconic Elvira, Mistress of the Dark dropped in for a select number of interviews to promote the release of her new line of double-feature DVDs. As synonymous with Halloween as Santa Claus is with Christmas, Elvira has carved out a niche in popular American culture and ELVIRA'S MOVIE MACABRE will assure that the Mistress of the Dark is the quintessential symbol of all things spookyfor decades to come.
ENTERTAINMENT WEEKLY contributed three consecutive with COMIC-CON® coverage and an exclusive A-list party sponsored by Warner Bros. Interactive Entertainment's Batman: Arkham City videogame.
UNIVERSAL MEDIA STUDIOS presented GRIMM, debuting on NBC this fall. Grimm is a provocative police procedural with supernatural mythology, inspired by the classic Grimm Brother's Fairy Tales. With an original "crime-fighting meets story-telling" premise, the series promises a new world of police work where the cases have a storybook connection, but not always happily ever after.
The Marvel Games unveiled some updated information on the much anticipated Marvel Universe MMO as well as a new trailer and details for Super Hero Squad Online
SHATNERPALOOZA?
The centerpiece of "SHATNERPALOOZA" will be the World Premiere of The Captains – an Epix Original Documentary produced and directed by William Shatner. In The Captains, he travels the world to connect with each of the actors who have played Captains over the long life of the Star Trek franchise.
Voltron®, the franchise that began when the 1980s robot-themed television action series Voltron: Defender of the Universe® presented a panel featuring all-new and classic Voltron content including original graphic novels, the Voltron video game, Nicktoons' Voltron Force™ television series, and toys and merchandise.
PEE-WEE HERMAN TAKES THE STAGE AT SAN DIEGO COMIC-CON®
The character of Pee-wee Herman is experiencing a remarkable renaissance, with enormous followings on Facebook, Twitter and Foursquare. Renowned writer-director-producer Judd Apatow recently announced that he and Reubens are developing a new feature film based on the character.
TODD MCFARLANE scheduled to make cameo. Toys "R" Us previewed the Halo: Anniversary Master Chief Platinum action figure from McFarlane Toys, weeks before the line hits store in August!
ROCK BAND ANNIE AUTOMATIC
RELEASES LIMITED EDITION COMIC BOOK
"KILLER IN DISGUISE"
NCsoft, the world's premier publisher of MMO's,featured the latest updates to their popular games, City of Heroes and Guild Wars 2
The CNET Base Statio
n featured GameSpot, and gave fans the chance to recharge their gadgets, refuel with complimentary food and drinks, and enjoy a special appearance from Star Trek's Orion Slave Girls
Bob brought his wild side to America's finest city with Dark Horse and his own publishing house, Marble Comics!
Vampires and Zombies have terrorized and tantalized their way through pop culture for decades – from "Dracula" to the "Twilight Saga" to "Walking Dead." SPIKE TV and its "DEADLIEST WARRIOR" franchise finally answered the question – which of these mythical creatures would come out on top in a fight to the finish. The "DEADLIEST WARRIOR " team of Richard "Mack" Machowicz, Dr. Armand Dorian, Rasha Drachkovitch, Robert Daly and special guests Wes Craven, Max Brooks and Steve Niles were on hand for this special Comic Con panel.
Bill Plympton (Two-time Oscar-nominated animator, author of Independently Animated) was in attendance for the screening a trailerfor the new documentary on animator Plympton, Adventures in Plymptoons! Moderators: Pat Swinney Kaufman (Executive Director for the New York State Governor's Office for Motion Picture & Television Development) and Lloyd Kaufman (President/Co-Founder of Troma Entertainment, author of Sell Your Own Damn Movie).
FRIGHT NIGHT Participating Talent:
· Colin Farrell ("Jerry Dandrige")
· Anton Yelchin ("Charley Brewster")
· Christopher Mintz-Plasse ("'Evil' Ed Thompson")
· Imogen Poots ("Amy Peterson")
· Dave Franco ("Mark")
· Craig Gillespie (Director)
ANCHOR BAY Entertainment offered the prequel to the acclaimed STARZ original series "Spartacus: Blood and Sand," "Spartacus: Gods of the Arena" – a first for a TV-on-Blu-ray™ release!
VW and Lucasfilms are once again teamed up to create a custom Star Wars-edition Passat featuring the hand-drawn illustrations of legendary comic book artist Ken Lashley. Throughout Comic Con, Ken will pay homage to the Star Wars universe using the all-new Volkswagen Passat as his canvas. The car will be on display in the center of the Lucas Pavillion, in the heart of the event and its over 100K fans.
MOVIES ON DEMAND ON CABLE MADE ITS FIRST APPEARANCE AT COMIC-CON® INTERNATIONAL
"Conan the Barbarian" Jason Momoa and REELZCHANNEL's Leonard Maltin to Appear
ChromeSkull – the technologically-savvy homicidal maniac that made his first big "slash" in 2009's cult phenomenon Laid To Rest – had a major to unveil CHROMESKULL: LAID TO REST 2
Glamorous McKenzie Westmore, longtime soaps star ("Passions," "All My Children"), young mother, wife (her husband's a successful rock 'n roll guy), producer and animal fanatic, is trading daytime for primetime, and bringing a rich
history and passion for the art of special effects make-up to her role as host of "Face Off," the hit reality series readying its second season (Sept.) on the SyFy Channel.
"Medusa" car from this Summer's critically acclaimed film BELLFLOWER was on display Medusa comes fully loaded with custom features built by the film's writer/director /star Evan Glodell.
· two fuel injected exhaust flamethrowers
· 30,000 volt ignition system
· smoke screen
· a bleach drift-kit
· adjustable rear suspension
· 3 surveillance cameras (all in which are controlled from the dashboard)
· a customized apocalypse exhaust system
· 6-71 Supercharger
· posi rear end
· self-contained oxygen supply for chemical or underwater warfare
· a roll cage
· stow-able fold-down back seat
· occasionally holds a sawed-off shotgun in the trunk because, well, you never know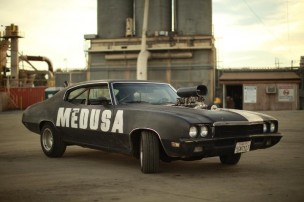 Lionsgate provided the experience of The Vizio Touch Wall that was created by Ignition Interactive! The booth and touch wall feature content from WARRIOR, THE DEVIL'S DOUBLE, CONAN THE BARBARIAN, ABDUCTION, and THE HUNGER GAMES!
Fyi: The Touch Wall is a state-of-the-art giant touch-screen composed of 6 3D-TVs (in partnership with VIZIO). At roughly 11 feet across and 8 feet high, the Touch Wall will allowed visitors to Lionsgate's booth to interact with movie content in never before seen ways.
Hasbro Studios' My Little Pony: Friendship Is Magic passed out limited edition ComiCon 2011 poster.
THE ADVENTURES OF TINTIN PRESS CONFERENCE SOUNDBITES FEATURING STEVEN SPIELBERG
With San Diego Comic-Con as the backdrop, 32 men and women who are commonly referred to as Real Life Super Heroes (RLSH) took to the streets and helped the homeless through H.O.P.E. (HOMELESS OUTREACH PROGRAM EFFECT) 2011 – an event organized to provide assistance to those in need.
SUPERHEROES – A FILM BY MICHAEL BARNETT that is set to have it's world broadcast premiere on HBO on August 8, 2011 as part of HBO's summer documentary series!!
The film had it's world premiere at the 2011 SLAMDANCE FILM FESTIVAL in January this year. Since then, the film won a 2011 SLAMDANCE Award and has played film festivals across the country to sold out screenings and accolades.
TBS is mounted a tribute to Team Coco fans who expressed their love for Conan O'Brien in a unique way. COCO-MoCA Presented: The Fine Art of The Flaming C, a special exhibit of fan art– a celebration of The Flaming C, Conan O'Brien's superhero alter ego created in conjunction with Warner Bros. Animation – featured more than 60 specially selected pieces of artwork created by CONAN fans from all over the world.
Professional skateboarder/entrepreneur Rob Dyrdek (star of MTV's Rob & Big and Fantasy Factory) brought the fun, fast-paced world of skateboarding to Nicktoons with an original, animated series, Wild Grinders.
Don Wright, representing PopArtPlanet.com presented a public viewing of Captain America created by Jack "The King" Kirby & Joe Simon in 1940.
Twentieth Century Fox Consumer Products headed to COMIC-CON® International to provide fans with exclusive offerings and long-awaited product previews from its popular television and film line-up
Actor Patrick Stewart joined various cast and crew of DOROTHY OF OZ for the animated musical's big COMIC-CON® debut. A long time COMIC-CON® fan favorite for his revered work in the Sci-Fi world via "Star Trek: the Next Generation" and the "X-Men" film franchise, this marks Stewart's first public appearance at the original San Diego Con.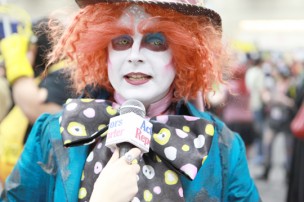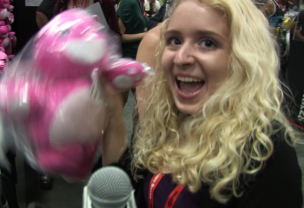 Photos by Greg "Bot" Cheng Greg Cheng Photography
Calendar Girl and Featured Events are on Actors Reporter, a site on the Actors Podcast Network, a Pepper Jay Production.