Championship Networking Tip – Broaden Your Scope
Attend as many follow-up networking events as possible. You must continue to be noticed by those in influence. Charity events are particularly advantageous. Broaden your scope and your visibility, by getting your butt out of the office.
Host speaking engagements focusing on your particular speciality and invite everyone in your database if you have to. Do what you must to stay in the public consciousness.
To further this concept, never cold call. Cold calling is the antithesis of networking. You want referrals? Make a great impression in person.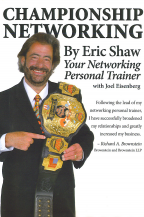 Eric Shaw is the founder of All Cities, a networking group. For more information, please visit All Cities Resource Group
And, remember, the way you do anything is the way you do everything!
Championship Networking is a monthly show on Actors Reporter, a site on the Actors Podcast Network, a Pepper Jay Production.