Art 4 Peace – First Global Peace Tree Planting in the US
First Global Peace Tree Planting in the United States
---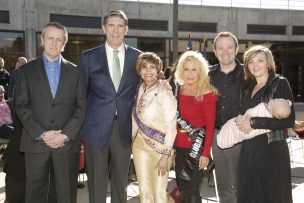 11/28/17 Tuesday, Provo/Orem Utah – Global history was made at Utah Valley University (UVU) as the 1st Global Peace Tree in the United States was planted closely adjacent to the world-renowned "Statue Of Responsibility". In partnership with SHEROES United and on behalf of the Art 4 Peace Awards/Wisdomlands project and organization, the Peace Tree was planted by Queen Dame Munni Irone.
The historic event was jointly organized by Queen Dame Munni Irone (Art 4 Peace) and Commander Celeste Gleave (Founder of SHEROES United) to demonstrate to the USA and every global citizen, the importance of uniting all nations in peace and love. The event program featured the global peace tree planting, symposium and awards ceremony. Notable dignitaries present at the event included His Excellence Sean Reyes (Attorney General Of Utah), who cancelled his flight to attend this historical event with his staff and they stayed throughout the ceremony. In attendance was Queen Dame Munni Irone, Commander Celeste Gleave, USA Army Parade Team, world renowned sculptor Gary Lee Price (Responsibility Foundation), President Matthew Holland (Utah Valley University), Student Body President Rob Smith, Global Peace Ambassadors of Art4Peace Awards, Ms. Andrea Bandera, actor Adam Templar, Ace Cruz Herrera, Derrik Boudwin, other Hollywood Dignitaries' and members of SHEROES United.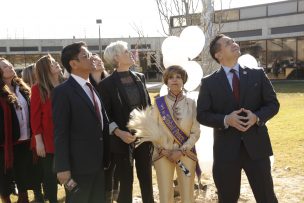 Art 4 Peace acknowledges and thanks the media including' Hollywood celebTV, Actors Reporter, and Hollywood Weekly, and the Photography of Brice Hiensuis from Hollywood, and Channel 2, Channel 5 and Channel 13 televised the 1st Global Peace Tree in the US event.
This Global Peace Tree planting is actually the 8th global peace tree planted around the world in nations which include Nigeria, India, Sri Lanka, Nepal, Bangladesh, Australia and now the USA.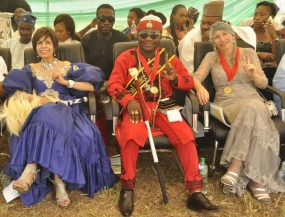 During the symposium of the US event, Queen Dame Munni Irone said in her official speech that, "tree produces many branches with numerous leaves which signifies that every peace tree planted globally around the world represents how possible it is to produce and build communities and leaders with the agendas of love and peace. A Tree is the central property of nature which depict and define the universe as an abode of green pasture and it is because of this natural quality that we believe peace begins with everyone and by choosing to live peace is choosing to cultivate the growth of countless peace trees in our universe."
The historic activities of Art 4 Peace Awards and Wisdomland continue around the world, under the leadership of Dame Munni Irone and in partnership with the government of all nations, diplomatic authorities of all continents and organizations committed to the service of humanity.
SHEROES Commander Celeste Gleave stated, "SHEROES United is grateful to accept this Peace tree on behalf of the United States. This icon will appropriately recognize and complement SHEROES mission statement which is threefold:
1. Eradicate human trafficking.
2. Create real solutions to combat domestic violence.
And 3. Shine the light on our women warriors.
Munni's vision and life's mission of being a champion of these initiatives parallels our vision."
About Art4Peace. The purpose of the Art 4 Peace Awards is to demonstrate to each nation how vitally important their culture is to the tapestry of world peace. Uniting universal artists for peace and to create jobs.
Art 4 Peace is a 501(c)(3)' funded solely by Dame Munni Irone.
---
Wisdomalnd- is all for profit. The statue of responsibility will be in every single Wisdomlandland around the world.
Dame Munni Irone is the founder of ART 4 PEACE AWARDS and WISDOMLAND projects to create job, tourism and global healing and she wants no financial gain for herself.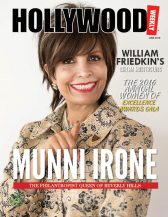 ---
About SHEROES United. SHEROES United is a 501(c)(3) nonprofit organization based on three prevailing pillars. The first is to identify issues of human trafficking and work towards combating this global epidemic. The second is a to create solutions for domestic violence and raise support for those victimized. The third is to recognize women who have dared to change the world through Love (Dignity, Action, Respect, Education) and who have made significant contributions. They are based in Utah and operate globally.
---
About Responsibility FoundationThe foundation is a 501(c)(3) building the Statue of Responsibility to stand on the West Coast as a Bookend to the Statue of Liberty on the East Coast.
---
More camillag@sheroesunited.us, henryapoloa4pawards@gmail.com, itsleesa@gmail.com