Annie Awards Red Carpet – Big Winner How to Train Your Dragon
38th Annual Annie Awards Red Carpet 2011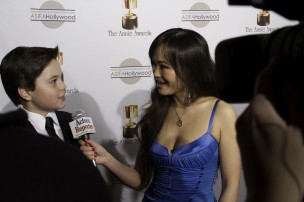 Actors Reporter host Yi Tian on Annie Awards red carpet with Jim Cummings (Winnie the Pooh and Tigger too), Bill Pympton (the Cow who want to be a Hamburger), Zach Callison (voiceover artist)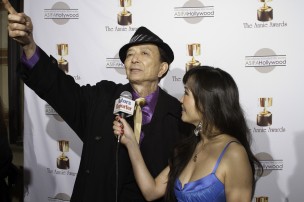 James Hong (Mr. Ping / Kung Fu Panda Holiday)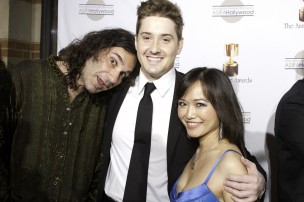 Dino Stamatopoulos (Frankenhole), Duke Johnson (Frankenhole)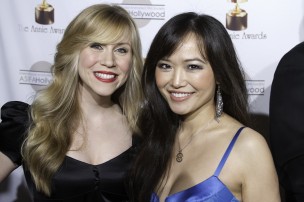 Brian Regan (Comedian), Dean DeBlois and Chris Sanders (How to Train Your Dragon), Pierre Oliver Vincent and Alessandro Carloni (How to Train Your Dragon), Ashley Eckstein (Star Wars: The Clone Wars)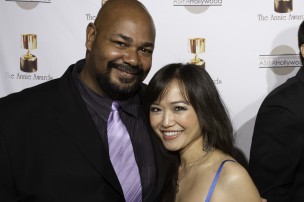 Dave Filoni (Star Wars: The Clone Wars), Mike Henry (The Cleveland Show), Kevin Michael Richardson (The Cleveland Show)
Shawn Patterson (Robot Chicken's DP Christmas Special), Peter Zaslav (Shrek Forever After), David Silverman (The Simpsons), Don Hahn and Peter Schneider (Waking Sleeping Beauty), Antran Manoogian (International Animated Film Society), and others.
DreamWorks Animation's "How To Train Your Dragon" won top honors as the Best Animated Feature at the 38th Annual Annie Award. Best Animated Short Subject was presented to Pixar's 'Day & Night'; Best Animated Television Commercial to Duck Studios 'Children's Medical Center'; Nickelodeon's 'SpongeBob SquarePants' was honored as Best Animated Television Production for Children and Playdead's 'Limbo' won Best Animated Video Game. A new category, Character Animation in a Live Action Production was presented to Sony Pictures 'Alice in Wonderland.'
The Annie award for voice acting in a television production went to James Hong as Mr. Ping "Kung Fu Panda Holiday" – DreamWorks Animation. A complete list of the 38th Annual Annie Award winners can be viewed at www.annieawards.org.
Video: James Hong (Mr. Ping) and Producer/Director Peter Hastings in Faux Kung Fu voice over session on Actors Reporter
Founded in 1972 by ASIFA member and veteran voice talent June Foray, the Annie Awards have grown in scope and stature for the past three decades. Today, ASIFA-Hollywood is the largest of an international network of chapters and supports a range of animation initiatives through its membership. Current projects include an animation archive, library and museum, classes and screenings, and animated film preservation efforts.
Video: James Hong and Peter Hastings in Kung Fu Panda voice-over session at Nickelodeon James Hong and Peter Hastings
Videos: Annie Awards Red Carpet from 2009 on Actors Reporter
Photos by John Michael Ferrari Images By Ferrari and Greg "Bot" Cheng Greg Cheng Photography
Featured events is a show on Actors Reporter, an arm of the Actors Podcast Network, a Pepper Jay production.