Actors Reporter Hosts' Appearances
January to March 2011
Desiree Anderson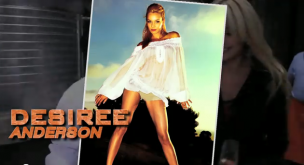 Nina Fehren
Plays Nurse Debbie Austley on NCIS – Los Angeles
Pepper Jay
Pepper Jay guest appearance on "Amazing Women Brains Beauty & Style with host Dr. Marlene Siersema March 9th on the Voice America Variety Channel and World Talk Radio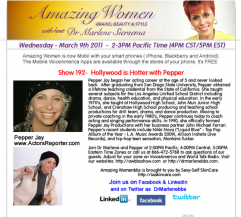 Pepper Jay guest on "Live from Hollywood," Tuesday, Feb. 1 from 8-9 p.m.,for the LIVE one-hour radio show in studio with host Suzi Khatami on 670 AM KIRN Radio Iran www.670AMKIRN.com
Pepper Jay guest on KKZZ – AM 1400 Radio with host Billy the Brain (Bill Frank) KKZZ AM 1400
Pepper Jay guest appearance on KFWB RADIO News/980 (CBS) on "Money 101" show with host Bob McCormick
Pepper Jay is scheduled to be headliner at Meanwhile, Back at Cafe Du Monde
Joe Sabatino
Filmed the role of Detective Moscarelli in Joshua Tree, a Romance Action Film starring Emilio Roso to be released June 2011
USA Network ordered 11 episodes of Joe Sabatino's Necessary Roughness
Danika Quinn:
Hosts "American Courage."
Danika Quinn

Danika Quinn her own radio show: Insider's Health Radio every Tuesday and Thursday LIVE at 3-4p EST.
Insider's Health Radio
Danika Quinn is in Washington DC covering the CPAC for PJTV

Mary Jo Gruber:
Mary Jo Gruber Co-Star on "Beverly Hills 90210"
Marta McGonagle
Marta McGonaglefiled Guest Star role in Hawaii on an episode called "Off The Map" on ABC.
Marta is filming NCIS: Los Angeles this week!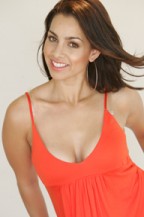 Yi Tian
Yi Tian booked and shot a lead role that's not specifically written for an Asian actress in a funny Saturday Night Live style sketch comedy Xxxtra Credit. Photo by John Wright
Yi Tian is just verified as a celebrity on Sina Microblog, the most popular Chinese Twitter. Chinese Twitter Yi is scheduled for an interview about the difference between the film industry in China and Hollywood with "China Legal".
Danny Pardo
books and shoots Lead role on Comedy Webseries MURDER INVESTIGATION picked up by Fremantle Media with potential to go to networks.
Books Voiceover for Target
National Hispanic Commercial for Rogaine
Books and shoots Supporting role on Indie film PRETTY OBSESSION and Danny
Horatio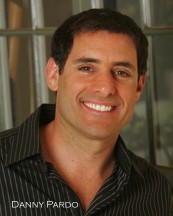 Cody Sullivan
Cody Sullivan was featured on Criminal Minds