Actors Day in LA – Teen actor Nick Podany shines among a powerful cast in The Diviners
Meet the cast and crew of The Diviners, a moving piece of theatre that takes the audience on an emotional journey.
According to Thespian Thoughts, The Diviners at Theatre Palisades is a must see!
Directed by Tony Torrisi
Written by Jim Leonard, Jr.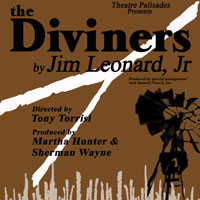 Cast:
(in order of appearance)
Richard Little
Jordan Bland
Nicholas Podany
James Giordano
Patricia Perkins
Stephanie Hawkins
Brett Chapin
Oh Rhyne
Susan Stangl
Martha Hunter
Emma Hawley
WHEN:
 Performance Schedule: January 14th – February 20th, 2011
Fridays and Saturdays at 8 pm and Sundays at 2pm
WHERE:
Pierson Playhouse
Pacific Palisades, California
www.theatrepalisades.org
For information and reservations call 310-454-1970
Actors Day in LA is a show on Actors Reporter, a site on the Actors Podcast Network, a Pepper Jay Production.