Actors Day in LA – Big River is delightful theatre in the round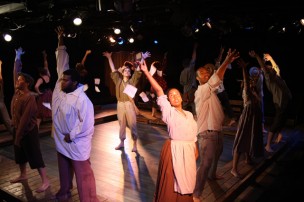 Actors Reporter interviews actor, Sean Hankinson ("Huck Finn") Gina D'Acciaro (Producer) and Linda Kerns (Musical Director) of the Actors Co-op Los Angeles performances of "BIG RIVER" This Tony Award-winning musical opened September 25th and runs through November 1st, 2009
Actors Co-op opens its 18th Anniversary season with the Tony Award-winning musical BIG RIVER: The Adventures of Huckleberry Finn, Music and Lyrics by Roger Miller, Book by William Hauptman.
Based on Mark Twain's novel, this Tony Award-winning musical follows one of America's best-loved literary figures on his adventures along the mighty Mississippi. Join the irrepressible Huck Finn on a musical journey as he helps his friend Jim, a slave, escape to freedom. BIG RIVER is a hilarious,
suspenseful and heartwarming celebration of pure Americana, with a jubilant score of cajun, gospel, folk, country and blues by country music legend Roger Miller.
Crossley Theatre
1760 N. Gower St. Hollywood, CA 90028
For information: www.ActorsCo-op.org
Creative Team:
Executive Producer: Gina D'Acciaro
Director: Richard Israel
Musical Director: Linda
Choreographer: Julie Hall
Set Designer: Stephen Gifford
Costume Designer: Vicki Conrad Dlugolecki
Lighting Designer: Lisa D. Katz
Sound Designer: Rebecca Kessin
Cast: The talented ensemble of BIG RIVER includes Desean Anderson, Bryce Blue, Curt Bonnem, Brian Byers, James Fowler, Bruce Green, Pamela Hamill, Anna Hulsey, Joshua Kuehl, Miles Jeffries, Sean Hankinson, Kellen Law, Rory Patterson, Liz Randall, Stephen Reynolds, Tracy Ray Reynolds, Cari Satre, Kyle Shepard and Landen Starkman.
Actors Day in LA is a show on Actors Reporter, a channel on the Actors Podcast Network, a Pepper Jay Production.