Actors Day in LA – Actress Tanna Frederick plays a delightful dog, Sylvia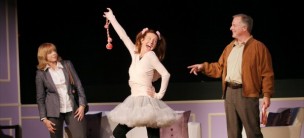 When a dog gets in the middle of a marriage:
Greg and Kate have moved to Manhattan after sending their last child off to college. During a walk in the park Greg finds Sylvia, a bouncy lab poodle mix, who appears to understand his frustration with work and middle age. Kate, whose new job is full of opportunity and satisfaction, comes to feel that she is losing Greg to his adoring new best friend. This imaginative twist on Greg's midlife crisis leads to laughter and some thoughtful insights into the nature of love, marriage, jealousy, and dogs.
Sylvia
Written by A. R. Gurney
Directed by Gita Donovan
Set Design and Construction by Jennifer Scott
Stage Manager Eugene Hutchins
Wardrobe by Lois Tedrow
Runs January 14 – February 19 at
The Sierra Madre Playhouse
87 W Sierra Madre Boulevard
Sierra Madre, CA 91024
Box Office:
Reservations or Information:
626-355-4318
Performances are Friday and Saturday nights at 8pm
Sunday Matinees at 2:30pm
For more information: www.SierraMadrePlayhouse.org
Actors Day in LA is a show on Actors Reporter, a channel on the Actors Podcast Network, a Pepper Jay Production.