Actors Day in LA – A Faery Hunt – Number One Live Children's Interactive Theater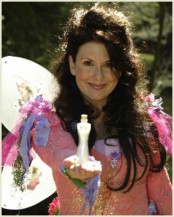 Photo by John Michael Ferrari
A Faery Hunt is a live children's interactive adventure presented by Faery Trail Theater
Los Angeles, California
Actors Reporter host, 11 year old Dharbi Jens, visits A Faery Hunt, an interactive show filled with uplifting life messages including kindness, forgiveness, respect, ecological responsibility and tolerance. Truly an entertaining and fun show for the whole family.
During Dharbi's visit the delightful cast included Debbie Rothstein, Natham Andy Cambridge, Kate Huffman, Jason Hayes, Rebecca Voss, and Kerry Bishop.
A Faery Hunt was WINNER of the 2009 Nickelodeon's Parents' Picks Award for Best LA Children's Theater
All shows start promptly at 10:30 am. Please arrive around 10:00 a.m. for pre-show. Please call ahead for reservations.
Library shows are at 3:00 p.m. or 4:00 p.m.
E–mail at reservations@afaeryhunt.com
A Faery Hunt is a nonprofit 501(c)(3) public benefit corporation dedicated to providing uplifting, fun and age-appropriate entertainment for children.
The faeries want the hunters to remember to respect the forest, and leave it in the condition you found it in or better! Please do not bring any balloons, glass, confetti, or fires to the forest. Drinking alcoholic beverages is prohibited. Groups are required to take their trash with them when they leave!
Parents… Don't forget to bring your camera, hats, good walking shoes and sunblock!
www.afaeryhunt.com

A Faery Hunt, a Trailer by Pepper Jay Productions in association with the Working Actors Group.
A Faery Hunt Photos by John Michael Ferrari and Pepper Jay Productions.
Actors Day in LA is a show on Actors Reporter, a channel on the Actors Podcast Network, a Pepper Jay Production.