ActorfestLA is presented by BackStage.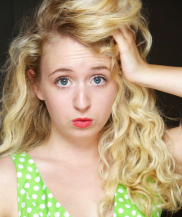 Actors Reporter coverage of Actorfest LA 2011 – Part 1
Mobile Version
Mary Jo Gruber chats with actors and other industry professionals including Gary Marsh (Breakdown Express and actors access), David H.Lawrence XVII (Heroes), child actresses Kassidy Faulk and Jazariah Lyles, Todd Rohrbacher and Lauren Bertoni (Actors Comedy Studio), photographer Anthony Mongiello, Joanna Garzilli (America's Intuition Coach), and others.
Actors Reporter coverage of Actorfest LA 2011 Part 2
Mobile Version
Mary Jo Gruber enjoys Actorfest LA with Jenny Wenger aka Wonder Woman (Argentum Photo Lab), actress Ellen Crawford (Screen Actors Guild), Suzanne Sena (Sena-Series Hosting Workshops), Thomas Garner (acting coach), Dallas Travers (Discover the Tao of Acting), Maryann Thomas Griffin (Lee Strasberg Theatre and Film Institute), Jeffrey Gordon (Writers Boot Camp), actress Joy Rinaldi, child actress Maya Vaught, teen actress Ada Lyles, and actresses Ninja Devoe (Secretos) and Andrea Rueda (Policías, en el corazón de la calle)
Every year Attendees to ActorfestLA are able to:
Attend workshops hosted by casting directors, agents, managers, and instructors
Visit the Exhibit Hall where performers can find the tools they need to advance and invest in their careers
Participate in casting calls with big name networks and studios
Take part in "Meet and Drop" sessions with popular casting directors
Interact with peers in the networking café
Actorfest exposition hall of entertainment industry professionals and exhibitors is free to attend; however, there are fees to attend the workshops. More information is available at www.actorfest.com
Actors Reporter suggests if you missed our Actors Reporter highlights from Actorfest 2010 with 18 to look younger actress Mary Jo Gruber and Actorfest 2009 with Breanne Silvi, former Miss New Hampshire USA, watch it today!
Actors Reporter coverage of Actorfest LA 2011 on Actors Reporter, a site on the Actors Podcast Network, a Pepper Jay Production