22nd Annual Night of 100 Stars
Beautiful Actors Reporter host, Desiree Anderson, on the red carpet at the Norby Walters 22nd Annual Night of 100 Stars Red Carpet 2012 celebrating the 84th Annual Academy Awards®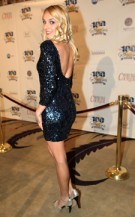 Los Angeles – On Oscar ® Sunday February 26th, the Beverly Hills Hotel's Crystal Ballroom provided the venue for the arrival of approximately 150-200 film and TV stars attended the hottest celebrity Awards party in town. Norby Walters, veteran music agent, reprises his role as Producer and Dinner Chairman.
The red carpet included past Oscar winners and nominees who will return to pay tribute to this year's favorite Award nominees. Stars and their guests will be dressed to the nines in Formal fashions represented by the nations finest design houses. Tickets were $1,000 per seat.
Desiree Anderson on the red carpet with actors Richard Dreyfuss, Ed Lauter and Kate Linder, and PR Ed Lozzi.
On the red carpet with Tamara Henry, Sunny Thompson, Richard Grieco, Seymour Cassel, Bai Ling, CCH Pounder, David Leisure, and the recording artist DESTENEE.
Actors Reporter host Desiree Anderson on the red carpet with actors John Savage and Lou Ferrigno, Michael Lerner, Mykelti Williamson and Patti McCormick, comic actor Fred Willard, and plastic surgeon Mark Monte.
Styling Desiree Anderson: Slimskii Couture http://www.Slimskii.com
See the Night of 100 Stars Official Web Site for further information. www.nightof100stars.com
Edward Lozzi & Associates PR
9454 Wilshire Blvd. Suite 600
Beverly Hills, CA 90212
310-922-1200
http://www.lozzipr.com
Photos by Roxy Shih and John Michael Ferrari
Featured events is on Actors Reporter, a channel of the Actors Podcast Network, a Pepper Jay production.