1st Annual eZWay Awards Golden Gala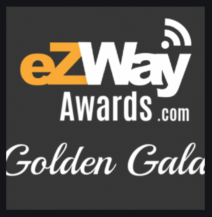 ---
The 1st annual 2019 eZWay Awards Golden Gala Benefiting Choc Children's Foundation Golden Gala Recapture. The Golden Gala eZWay Family Awards dinner and benefit for CHOC was a success! eZ had a golden carpet to just die for!
Upon arrival, the first look was the beauty of the golden carpet that will forever be embedded in our memories as a new statement for the carpet looks. It was filled with photographers, videographers and interviews all the way along. A beautiful experience to reminisce, it will not soon be forgotten.
Making our way into the Center Club towards the gala the excitement mounted as one could check in and be offered a glass of champagne. Vendors set up their booths to everyone's satisfaction making them easily seen and noticed before attending the gala in the main event area. The tables were lovely and the energy so exciting as business men and women and honorees networked their way to their seats.
Actress Reatha Gray and eZWay Eric Zuley presented the event with such ease and the event was filled with glamor. With many legends present, such as Frank Shankwitz, Shea Vaughn, Erik Swanson, Gary Miller, Kate Linder, Reatha Grey, Billy Moore, Sharon Lechter, John Shin, Shellie Hunt, and Dr. Olympia Gellini, plus many more, the event was scattered with golden memories. Presentations of awards to various winners was a treat as nominees who won received their awards.
The dinner was absolutely delicious, as they served a platter with chicken and Salmon, or Vegetarian meals. Wine and Champagne were readily available as well. Entertainment included a magic show by Evan Disney, and Music by Sheldon Reynolds of Earth, Wind, and Fire, Aviva and speaker Ronald Couming.
A night to remember, the Golden Gala will go down in the history of carpet events and be an event to attend annually without doubt.
---
Actors Reporter is a channel on the Actors Podcast Network, a Pepper Jay Production.